Summer Computing at the UW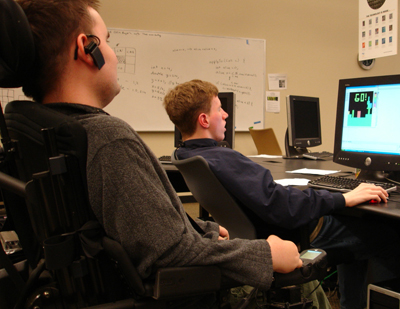 Phase II Scholar Lukas (right) and Ambassador Chris (left) work on a computing puzzle.
The 2009 Summer Computing Experience is an invitation-only program for deaf and hard-of-hearing high school students who are interested in exploring careers in computing.
During this week long program in August, students will take an intensive course in animation, learn about careers in computing, visit companies such as Adobe and Microsoft, meet deaf and hard-of-hearing role models already working in computing careers, and meet other deaf and hard-of-hearing students who, like themselves, are interested in math and computing. Students are awarded tuition, room and board, and transportation to Seattle at no cost, thanks to funding from the National Science Foundation.