Summer Study '99: Hear about Phase II Activities from DO-IT Interns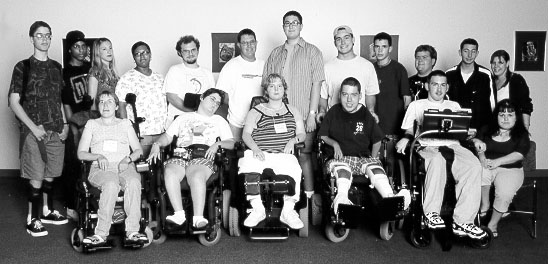 DO-IT Phase II Washington Scholars
Phase II Scholars return to the University of Washington campus for a second Summer Study. They meet the Phase I Scholars, learn about college life and career preparation, and participate in a one-week workshop with postsecondary instructors. After Phase I and Phase II Summer Studies, some Scholars apply to work as Interns in Summer Study programs for new Scholars. Interns help with dorm and academic activities, mentor the younger Scholars, assist in computer labs, set art and clear up treats - whatever needs to be done to support the program. DO-IT Interns Amanda, Laura, and Michael tell about some of the Phase II and Intern activities in the report below.
BBQ
It's 6:30 pm, July 24. After Sheryl's rousing introduction, we're all hungry and it's time for the DO-IT barbecue. It is, as usual, entertaining and a carnivorous delight. Let's hear from a few participating DO-IT Scholars. Wesley says, "The BBQ was very exciting because it allowed me to rekindle friendships that I established last year." Dustin opines, "The BBQ was fun and the food was good, but there wasn't enough of it." Isaiah tells me, "the BBQ was a good way to start things, especially because we all knew each other and had stuff to catch up on."
Phase II Workshops
It's 9:30 am on July 26. Now the fun really begins, or, at least, the work for the Interns does. I'm (Michael) helping with the workshop Game of Life, which is an interesting computer science simulation, with some amazing links to image processing. Though we're slow to pick up on the Java programming, creative new simulations start emerging. And we have a whole week. Let's hear from some Scholars. Jessie opens, "The Game of Life is an exciting and intellectually challenging workshop involving computer programming, and image processing." JP adds, "The Game Of Life is a very challenging game for the competitor's mind. It makes them think in ways that they haven't ever imaged in games before, because of the unique way that the game was created. Challenging the competitor in fields of different knowledge, thinking of how the picture might turn out or how they might die or live to another generation." Blair finishes, "It's an intriguing thing and I found it very fun to do."
Everyone Loves a Parade
7:00 pm. It's time for laughs on the Ave., as we watch the junior parade for Seafair. Some see it through cynical eyes, and others just laugh. Let's now open the floor for some Seafair thoughts. Jessie tells me, "Seafair was a great parade full of everything from ethnic dances to marching bands." Maggie adds, "The Seafair was one of the best parades I have seen in a while."
The Coats
Dateline: July 27. 19:00 hours. Mentor/Ambassador night is in full swing. With stomachs full of pizza, we listen briefly to yet another introduction. But, what's that I hear? The sound of a capella grooves? Yes, despite the unfortunate need for a name change (they were originally called The Trenchcoats), the Coats are back and sounding sweet. Let's hear from the audience. Turning the floor to Wesley, we hear, "The Coats put on a marvelous show." Jessie rejoins, "The Coats were an exciting addition to the Mentor/Ambassador night. Everyone really enjoyed them." Dustin rounds us out with "The Coats could be the highlight of the Phase II session, since Sheryl isn't taking us to a baseball game."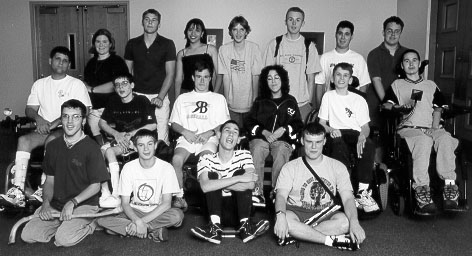 1999 DO-IT Phase II National Scholars
Focus Group
On to The Focus Group. Okay...I'm focusing. Seriously, though, let's see what our Scholars say about how DO-IT went. According to Isaiah, "The focus discussion group was interesting and valuable." Justin thought, "My opinion was really helpful to the program, and that's why I liked it." Hank thought "it was cool and it was helpful and interesting." David thought "the focus group was a very good way to get our opinions across."
Tech Tips
Finally, Computer Tips and Troubleshooting (or occasionally just trouble) from Dan Comden. This program proved interesting and audience participation was key. Justin says, "The session on troubleshooting helped because I'm often stuck." Hank thought that "the tips were interesting and I hadn't heard them before. The Web sites were also neat." David modestly responded that, "It was a nice program, but I already knew a lot of the tips." And the rest will be left to history's remembrance.
Speechcraft
"The number one fear in America is public speaking" according to Jerry Seinfeld. To help Scholars get over that fear a workshop was given by local speaker and comedian Ann Kaiser. Blair said, "It helped to get me over my nervousness." The Phase II Scholars were divided up into groups and given the task of being a spokesperson for NASA and to tell the press whether life on Mars had been found. After that, each person was given a "table talk" topic to discuss in front of everyone present. Jeffrey said, "No one will know what you are saying better than you." After each person gave a speech Ann Kaiser gave her comedy routine. Justin said, "I liked the stand-up routine."
The Talent Show
One of the most entertaining events at DO-IT Summer Study is the Talent Show. It's not scheduled every year, but it always seems to just, well, HAPPEN. Every group of Scholars has its hams, its share of people with unusual or interesting abilities. We at DO-IT love that kind of stuff. After some of the scheduled acts in the Talent Show, which included dancing, a "human calculator" whose nickname is 'Trouble' and some great singing and recitation, we called on "volunteers." These, of course, were the unfortunate souls nominated to go on stage by their peers. That lasted for quite a while, and we heard several hilarious stories, saw some excellent acting (courtesy of DO-IT staff Kristin and Kathy) and witnessed other irreverent antics. For a fairly impromptu presentation, the Talent Show turned out to be a wonderful and light-hearted evening event.
IEP's and Transition: Hear From Students Teleconference
The National Transition Alliance for Youth with Disabilities (NTA) National Conference presentation, IEP's and Transition: Hear it from the Students, July 27. A phone call with almost 200 people? Most people would be extremely nervous, but five DO-IT Interns participated in a teleconference describing their IEP (Individualized Educational Program) process and their experiences while transitioning to college. Michael said, "I thought the fact that it was led by students was really amazing." Each Intern was granted five minutes to describe their experiences with the transition process to college along with anything else relevant to the topic. Trent said, "I think they were not expecting us to be as knowledgeable as we were." After the students were done speaking teleconference participants could ask questions over the phone. Laura said, "I was really impressed and excited with how well the teleconference went."