Team Member Profile: Hannah Werbel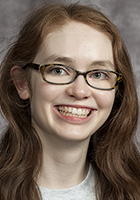 Hannah is a computer science major and in the interdisciplinary honors program at the University of Washington (UW). UW President Ana Mari Cauce recently presented Hannah with the UW President's Medalist award as the freshman recipient for the 2015-2016 academic year. Hannah was selected based on both her high achievement in academic performance as well as her extensive co- and extracurricular involvement. 
During high school, Hannah interned with UW's Center for Neurotechnology (CNT). At the CNT she analyzed data from computer interface experiments via computer scripts she had written. In college, she has worked as a teaching assistant in a programming class. When not in class or researching, she is an active member of both the Husky Marching Band and the basketball pep band, where she plays piccolo.
Hannah has a passion for accessibility and she is the president of the Washington Association of Blind Students. She also works for DO-IT as a member of the ATeam, a group of student leaders on projects like AccessComputing, who share their experiences on panels, give input, and help plan events.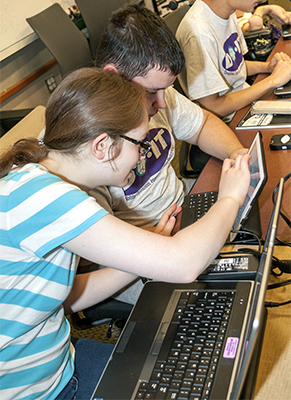 In an interview published by the UW Paul G Allen School of Computer Science and Engineering (CSE), Hannah explained why computer science is exciting to her:
"Thus far, the most inspiring thing for me is the challenge and rigor of the courses. I find the subject of computer science fascinating, and am constantly amazed at how much of it I don't know. The subject expands far past basic Java programming, and it is inspiring to me to see all of the potential and possibilities that lie ahead. There is so much about computer science that is still to be discovered and implemented. Tackling challenging problems and attempting to comprehend abstract ideas inspires me to engage with the topics even more. I've always enjoyed puzzles, and I view computer science as a giant mystery that I am coming closer and closer to understanding."
Hannah exemplifies excellence in her work and a compassionate, composed demeanor. We at AccessComputing congratulate her on an extraordinary year and look forward to continuing to engage with her in AccessComputing activities where she can help other students with disabilities achieve their goals in computing and information science fields of study, research, and employment.
Read about the UW President's Medalist award here.
Read the full interview by the UW CSE here.