Transition to College - Just DO-IT!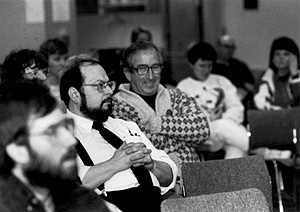 Audience culling information from a DO-IT presentation.
On Saturday, January 21, 1995 DO-IT hosted its second Transition Workshop--a free one-day workshop for high school students who have disabilities and their parents. Participants had a great time meeting new people and talking about issues that high school students encounter as they transition from high school to college and beyond. Themes of the workshop included self-advocacy and self-management.
The workshop agenda included introductory remarks from Sheryl Burgstahler and a showing of the DO-IT Scholars video. In keeping with the theme of self-advocacy, Sheryl showed the video, "DO-IT Working Together: Faculty and Students with Disabilities" (See "DO-IT Yourself"). She talked about a day in the life of a professor and how students can establish effective faculty-student relationships.
Kurt Johnson, from UW Rehabilitation Medicine, presented issues that can occur for a student when making the transition from high school into college. Kathy Cook, from Disabled Student Services, talked about support services the University of Washington offers to their students who have a documented disability, and how to interact with varying student service offices on campus.
After lunch, Dan Comden, DO-IT's adaptive technology specialist, gave an overview of current adaptive technology and showed slides of DO-IT Scholars and their systems. Karen Ozmun, from the Adaptive Technology Resource Center, and I, DO-IT Mentor and transition specialist, offered suggestions about finding financial resources for funding assistive technology and college expenses. Karen covered information about legislative issues in relation to assistive technology and then talked about funding resources in Washington State. I talked about various types of available financial assistance for college students and offered tips on filling out applications and cautions concerning overlapping funding resources.
The workshop concluded with a panel of individuals who have disabilities and have successfully completed transitions from high school to college and beyond. The panel members included DO-IT Mentors Sakuna Ganbari, Ed Pottharst, Agustin Musi, Dean Martineau, and me. Panel members shared college experiences and gave self-advocacy and self-management tips.
Our next Transition Workshop will be May 6, 1995. Call (206) 685-DOIT (685-3648) for information. Hope to see you there!