Universal Design in Curriculum a Key Focus at Accessing Higher Ground (AccessComputing News - January 2014)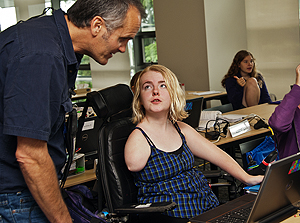 An instructor works with a student on her laptop.
The Accessing Higher Ground conference, held annually in November, focuses on accessible media, web, and technology in higher education. It attracts about 300 attendees, most of whom play key roles in assuring their college or university's programs, services, and resources are accessible to students with disabilities, especially when delivered using technology.
In 2013, the theme of the conference was "universal design in curriculum." Universal design is the practice of designing something —a building, website, device, product, or lesson plan —with a full spectrum of users in mind. This increases the likelihood that people with a wide variety of characteristics (e.g., variations in vision, hearing, use of hands, height, mobility, language, culture) will be able to use the product.
"Universal design in curriculum" is distinct from "universal design of curriculum." The former is concerned with teaching principles of universal design by injecting related content into course curricula; the latter ensures course content is fully accessible to students with a wide variety of characteristics, including various disabilities and learning styles.
It is important for curricula to be accessible to all learners, but it also important to teach principles of universal design because today's students are the architects of our future world. If they are exposed to universal design and accessibility related concepts, it increases the likelihood that the world they create will be one in which all people can equally participate. This has been an area of focus for AccessComputing, so naturally program staff and partners were active participants at the conference.
In an all-day preconference session, I was joined by several colleagues in facilitating a pre-conference workshop titled "Integrating Universal Design into the University Curriculum." Each of the facilitators delivered a presentation exploring the topic from slightly different perspectives, then spent much of the afternoon engaged in discussion with participants about issues and solutions.
AccessComputing partner Jonathan Lazar of Towson University kicked off the day with a lively introduction to the topic and offered specific recommendations for how one might integrate accessibility related content into specific courses, including human-computer interaction, web design, systems analysis and design, and software engineering. He also encouraged participants to reach out to other disciplines including instructional technology, special education, design, engineering, speech pathology, occupational therapy, and many more. If universal design is successfully integrated into courses across multiple disciplines, students' understanding of this content will be reinforced and students will be more likely to apply this understanding in their future careers.
Dr. Lazar also stressed the importance of building universal design into standard curriculum models such as those coordinated by the Association for Computing Machinery (ACM), Association for Information Systems (AIS), and Institute of Electrical and Electronics Engineers (IEEE). Most of the current curriculum models have little or no content related to universal design or accessibility. There is an urgent need for faculty members and others who are involved in these organizations to help address this gap.
The University of Dundee provides a positive example of one institution that has successfully integrated universal design (or "inclusive design," as it's known in Scotland) into computing courses at both the undergraduate and graduate levels. David Sloan, formerly with the University of Dundee but now with The Paciello Group, shared some of the sample curricula, learning activities, and assessment strategies that comprise "The Dundee Approach."
E.A. Draffan of the University of Southampton shared her experiences involving a full course on assistive technology and universal design that is taught to students who are pursuing a master of science degree in web technology. Up to fifty students each year take the course, and there are many success stories. Students' ideas and projects have led to actual products and services that increase access for individuals with disabilities, and many of the students have gone on to pursue PhDs researching accessibility and universal design.
In my presentation, I described the web design and development course curriculum recently updated and maintained by AccessComputing. The curriculum was primarily designed for use in secondary schools, but has been used in a wide range of settings from middle school through universities. It is a full course curriculum in which conforming to web standards and accessible design are taught as core design principles in the first unit, then reinforced throughout the course as students learn new topics. The curriculum is available for free at www.uw.edu/accesscomputing/webd2 and currently has over 4000 registered teachers worldwide. Many of the teachers who use it have disclosed that they're relatively new to web design, so they are learning web design at the same time they're teaching it. Since universal design is integrated into the course, they're learning the proper way to create web pages and passing that on to their students.
Howard Kramer of University of Colorado at Boulder is the organizer of Accessing Higher Ground, and he joined the pre-conference session to talk about a grant he received from the National Endowment for the Arts to promote the integration of universal design into university curricula. This project is young, but ultimately will host a clearinghouse of syllabi and course components that address universal design, plus other resources that faculty and others can share. The project website (still under construction at the time of this writing) is at www.uduc.org.
And all that was only the pre-conference session! Each of the facilitators went on to give breakout sessions during the regular conference and were joined by several other presenters who shared their ideas and experiences. David Sloan expanded on The Dundee Approach during the first keynote luncheon, and E.A. Draffan and I participated in a panel discussion during the second keynote luncheon.
A web page documenting ideas and sharing resources from the pre-conference session can be found at www.staff.washington.edu/tft/talks/ahg13/ud. The full Universal Design Track and Schedule is documented on the conference website at www.accessinghigherground.org/UDTrack2013.html.