University of Washington Accessible Information Technology (2016)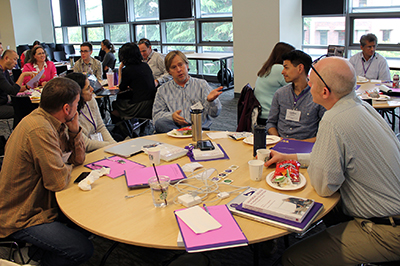 Proceedings of the April 2016 University of Washington Accessible IT Capacity Building Institute
This publication shares the proceedings of University of Washington (UW) Accessible IT, a capacity building institute (CBI) held in Seattle, Washington on April 29, 2016. Attendees included disability service professionals, individuals with disabilities, and information technology (IT) professionals from across the three campuses of the University of Washington. These proceedings may be useful for people who
participated in the CBI,
want to ensure that people with disabilities have access to postsecondary education,
would like to access resources and explore strategies to help make their campus IT more accessible,
have promising practices to share with others, and/or
would like to conduct a similar CBI.
This event was sponsored by UW Accessible Technology Services at the University of Washington (UW), a UW-IT (University of Washington Information Technology) academic services unit that supports the Access Technology and DO-IT (Disabilities, Opportunities, Internetworking, and Technology) Centers. These centers are dedicated to empowering people with disabilities through technology and education. They promote awareness and accessibility to maximize the potential of individuals with disabilities and make our communities more vibrant, diverse, and inclusive.
The DO-IT Center strives to
increase the success of people with disabilities in challenging academic programs and careers
promote the application of universal design to physical spaces, information technology, instruction, and services
freely distribute online content, publications, and videos for use in presentations, exhibits, and the classroom
provide resources for students with disabilities, K-12 educators, postsecondary faculty and administrators, librarians, employers, parents, and mentors
The Access Technology Center (ATC) focuses on ensuring students, faculty, and staff with disabilities have access to technology—including computers, software, and special equipment—that supports them in accomplishing their work. ATC staff help individuals select and use assistive technology and supports a showroom with numerous products, including the following:
speech and braille output
screen magnification
alternatives to the keyboard and mouse
speech recognition software
tools to make reading and writing easier and computer use more comfortable
the capacity to create documents in e-text and braille
a collection of accessible science equipment such as automatic stirrers, tactile measuring devices, and talking calculators
The ACT also provides braille embossing and tactile graphics for the UW community as well as accessible IT design consulting.
ATC staff promote the development and use of accessible technology products by
encouraging student computing facilities to include assistive technology;
offering courses, delivering presentations, and conducting ATC tours for UW classes and other groups;
working with campus units to prepare materials in accessible electronic formats;
assisting department web developers in designing accessible websites and applications; and
supporting a central resource to provide guidance to technologists and administrators at the UW and beyond.