Visio Helps DO-IT Show 'N Tell
DO-IT is on the road again and expecting big-time impact from a pint-sized audience. The DO-IT Show 'N Tell project has been funded by Visio Corporation to promote full inclusion of people with disabilities by creating positive attitudes about their abilities.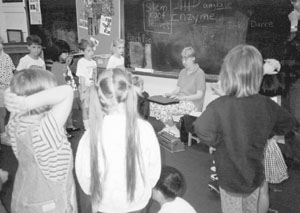 DO-IT Mentor Imke demonstrates her talking computer to kindergarten students.
DO-IT Show 'N Tell presentations will be incorporated into show-and-tell times in kindergarten and first grade classes in the Seattle area. Successful college students with disabilities will be paid stipends to deliver the presentations. Presenters will share information about their disabilities, including the ways in which they access information (e.g., Braille, sign language), adapt to learning environments, and live independently. They will demonstrate adaptive technologies (e.g., voice input/output computers). A significant portion of the Show 'N Tell time will be open for questions and group problem solving (e.g. "I'm blind. How do you suppose I manage to cross the street safely?"). Additionally, a paperback coloring booklet about how people with disabilities accomplish tasks will be developed and distributed to kindergarten and first grade participants. The project will help young people understand alternative ways to do everyday tasks employed by people with disabilities.
A special thanks goes to the participants in our DO-IT Show 'N Tell pilot project. Imke Durre, one of our Mentors who is blind has conducted four "Show 'N Tells" at Laurelhurst Elementary School; she showed her computer that can talk and print in Braille and printed all of the students' names in Braille. My son, Travis, helped make the arrangements with the teachers and introduced Imke to his classmates. Thank you, Imke and Travis, for proving the concept of DO-IT Show 'N Tell.
And, thanks to Visio Corporation, for the next two years we will be able to provide many more of these experiences for young people. At this age we're not CHANGING attitudes about people with disabilities; we're CREATING positive attitudes before attitudes have been developed.