Washington State University and Policy #188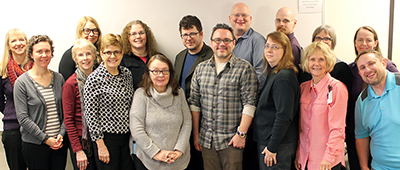 On February 21-22, Accessible Technology Services at the University of Washington (UW) hosted a contingent of visitors from various Washington State University (WSU) campuses to share knowledge about accessible IT and how it relates to the new State of Washington Policy #188, which states that state agencies must procure and deploy accessible information technology products.
Sixteen individuals from different WSU campuses attended (Pullman, Tri-Cities, Spokane, Everett, and Vancouver), including members of the WSU Vancouver Accessibility Council. Presentations included the priorities and interest of the WSU Vancouver Accessibility Council, an overview of Policy #188, information about DO-IT's mission and resources, and WSU's efforts in the area of accessibility. Accessible Technology Services also provided a tour of UW's Access Technology Center and Disability Resources for Students, followed by a discussion of accessible technology.
The feedback from WSU about there experience was "This was truly a valuable experience and we learned many important lessons from your group."