Why We Need Disability Advocacy Clubs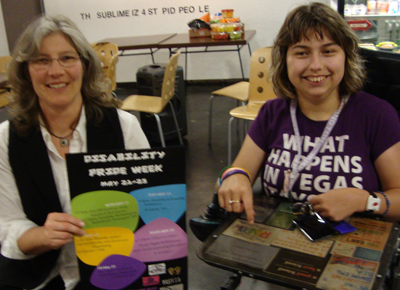 College campuses can be large and intimidating places for new students. One way students can find a community of peers is by joining a club on campus. For students with disabilities, disability advocacy clubs have become a great way to find that community. Disability advocacy groups are based around three main principles: self-advocacy/activism, disability awareness, and social events.
Groups practice self-advocacy and help each other advocate for accommodations. Groups do this by using peer mentors and having discussion groups. Students help each other get accommodations and learn other accessibility tips by sharing their experiences. Students also participate in activism by having representatives in student government and writing letters to members of the school administration.
Disability awareness and disability pride are interests of other disability clubs. Groups put on disability awareness weeks and host panels about disability issues. Clubs use the resources on campus to spread awareness about issues that involve people with disabilities to help change perceptions that people have about individuals with disabilities.
Disability Pride events take place during awareness weeks to show that people with disabilities are proud of who they are. Events can include open mic nights, art events, rallies on campus, and technology fairs.
Advocacy clubs are also social clubs! Groups mix advocacy and fun; many of the groups plan social events including game nights, bowling, and potlucks. College is a time that people like to have fun while they learn, and people with disabilities are no different.
To learn more about how to start a club on your campus visit Green Mountain Self-Advocates, www.gmsavt.org/index.php?option=com_content&view=article&id=66
To view what some clubs are doing now, visit:
Cascadia Community College's Disability Student Alliance (DSA), cascadia.collegiatelink.net/organization/AccessFutures/calendar/details/143021
University of Washington (UW) Disability Advocacy Collective, www.facebook.com/groups/220349191312292/
UW Bothell's Disability Strength Awareness and Education Alliance, orgsync.com/40609/chapter
University of Maryland, Baltimore County's Accessibili-tea, groups.google.com/group/accessibili-tea?hl=en&pli=1
University of Missouri's MU Student Exceptions, www.facebook.com/groups/124883254189276