Wild Things: Our Trip to the Zoo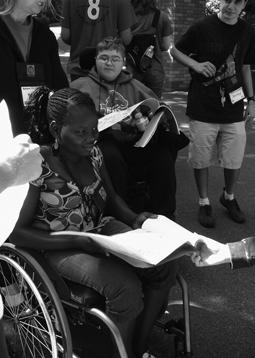 Phase I Scholar Nejowa tours with fellow Scholars.
On the Sunday of our first week at Summer Study, the DO-IT Scholars went to the Woodland Park Zoo. It was a blast! Our first reaction when we saw the zoo was, "This looks like fun!" We were right. We were split into groups and set off to explore. Our group leader made the experience a lot of fun. For most of us, memories of visiting the zoo in childhood flooded back, but this experience seemed even better. A favorite part of the zoo for many Scholars was the gift shop where we got stuffed animals, a frog named Rainbow, a leopard named Billy Bob, and a fish scale that is used as a natural nail file and callus remover. All the animals at the zoo were amazing. Among the most exciting was what looked like one huge snake. What we did not know was that there were two snakes in the cage. We have many great memories from our visit to the zoo.