The Workforce Recruitment Program Visits Seattle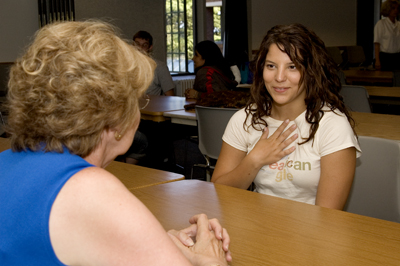 '05 Scholar Sakina engages in a mock interview with an employer during Summer Study.
The Workforce Recruitment Program for College Students with Disabilities (WRP) is run by the U.S. Department of Labor. Each year, the program sends recruiters to college campuses nationwide. This year, a WRP recruiter came to the University of Washington campus in Seattle to meet with fourteen students. The students had many different disabilities and career interests.
Participants who complete WRP interviews are included in a database that captures their major, their skills, and locations where they would like to have an internship or job. The student information in this database is made available to employers in the public and private sectors. The database remains active for one year. During that time, employers contact students and invite them to apply for open positions.
One student explained why she participated in the WRP interview: "Meeting the WRP recruiter was good practice for me, because I will be graduating in June, and I will be needing to talk to LOTS of employers. The interviewer asked a couple of questions that surprised me, but next time I'll be ready with a better answer."
Last year, one student participant was offered a summer civil engineering internship for the USDA Forest Service. He said, "It was a great internship, people were very friendly and showed a strong interest in my learning." He also discovered that the Forest Service offers a range of career opportunities.
DO-IT participation in this event was funded by the National Science Foundation as a part of the AccessSTEM project. For more information on WRP, consult their website at: www.dol.gov/odep/pubs/brochures/wrp1.html.