For Your Bookshelf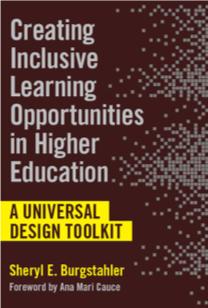 Harvard Education Press has published my new book, Creating Inclusive Learning Opportunities in Higher Education: A Universal Design Toolkit. With content that integrates content related to accessible technology design in every chapter, it is particularly relevant to these times when so many courses and services have moved online. I also share myriad ways disability, accessibility, and universal design topics can be integrated within the curriculum of computing and other postsecondary courses.
In this publication I offer a practical, step-by-step guide to put the principles of universal design to work in all that we offer in higher education. Addressing the need for systemic change in order to dismantle institutional inequities, I share strategies that can be offered to all students enrolled in classes and using campus services and applied to the design of technology to avoid the creation of access barriers and build a more inclusive campus.
The book has broad appeal for faculty, administrators, and support staff interested in advancing diversity, equity and inclusion for all students on any campus, and includes specific examples relevant to students with disabilities. As shared by AccessComputing partner and chief executive officer and president of the Center for Minorities and People with Disabilities in IT, Valerie Taylor: "While this excellent book focuses on practical steps to provide inclusive environments in higher education, Burgstahler's recommendations are relevant and applicable to the broader community as well." Margo Izzo, professor emeritus of Ohio State University, further elaborates: "Sheryl Burgstahler's passion for inclusion is grounded in personal, academic, and professional experiences. She provides an opportunity for the reader to 'Take Action' by reflecting, learning, and applying new concepts. This book is an excellent mixture of practical examples and useful strategies for administrators and faculty who strive to make their college campus more inclusive, diverse and universally designed!"
This publication complements Universal Design in Higher Education: From Principles to Practice, second edition, that I edited and is also published by Harvard Education Press. In this book, I and 40 other chapter authors and co-authors make the case for the application of universal design to teaching and learning, campus services, physical spaces, and technology.