Ability: A Group to Know!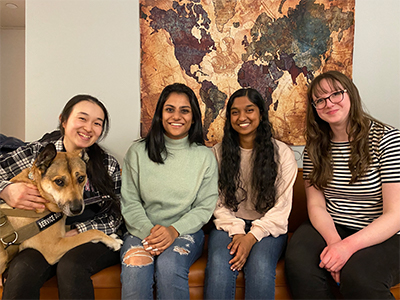 Ability is an Allen School student organization whose mission is to provide a community for students with disabilities and their allies, as well as educate the Allen School and broader UW community about disability and accessibility. Disability carries a lot of stigma, is often misunderstood, and tends to be overlooked in conversations about diversity and inclusion; however, it's an identity that millions of people have—including many students at the Allen School. I am the chair of Ability, having founded the group to create a space for students to support one another and learn about disabilities in an open, welcoming environment. Since its inception in Spring 2021, Ability has grown to an officer team of 5 and over 100 members! I am now a master's student at the Allen School and continue to run and expand the club with the support of her officers.
Ability supports students with disabilities in a variety of ways, including helping them get connected to the myriad of disability resources available at UW. We kick off each school year by hosting an information session (with delicious cookies and frosting!) for incoming students about disability resources on campus. Officers meet with students individually to help them navigate aspects of accessible education like course accommodations and academic success meetings with DRS. Other events, such as Ability's "Impasta Syndrome" dinner event where pasta is served, are aimed to create space for talking about difficult topics in the disability community, such as being "not disabled enough," not being the "right kind" of disabled, and feeling like a disability imposter. Additionally, Ability runs a mentorship program that matches students one-on-one with a mentor in industry who has a disability and shares similar interests. 
Ability isn't just for students with disabilities; promoting allyship is another core component of our work, and Ability is open to students who are allies of the disability community, as well as to those wishing to learn more about disability identity. This past winter, Vice Chair Lucille Njoo (she/her), a PhD student at the Allen School, led a presentation and workshop on how to be an ally to the disability community. Students participated in candid discussions about disabilities and learned about how they can recognize ableism in their daily lives and be an ally to their disabled peers. 
Ability also highlights other opportunities available on campus, such as accessibility research. They host an annual Accessibility Research Night where they invite accessibility researchers at UW to present their current work and share opportunities for students to get involved. Additionally, Ability has collaborated with organizations such as the LEAP Alliance to highlight graduate school opportunities and Husky Coding Project to host a workshop for designing accessible websites. 
Since a large piece of our mission is to build community, Ability also hosts fun social events for member bonding. We have had trivia nights, game nights, hot chocolate bars, and even an event called "Bags and Boba," where students decorated tote bags while enjoying boba tea with other Ability members.
Ability welcomes students, faculty, and staff of all identities. Regardless of whether you identify as disabled or not, you're welcome to join Ability to make friends, have fun, and learn about disabilities. Feel free to reach out to Ability at ability-officers@cs.washington.edu if you have any questions!