SIGCSE 2023 Trip Report: A Chronicle of Ideas, Good and Bad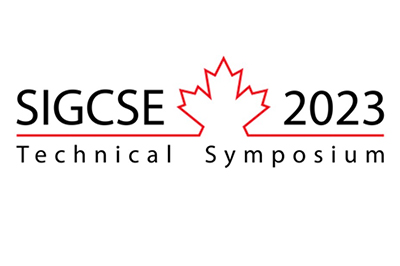 My first SIGCSE Technical Symposium was in 2013. I can't understate how much has changed personally since then. At the time, I was just past tenure and promotion, just leaving my startup, and just beginning to realize I couldn't run from my gender identity any longer. I had just starting computer science education research, doing all of the things a naive newcomer does: Asking the wrong questions, missing related work, and missing the forest for the trees. My students and I were doing interesting work mostly by virtue of our unconventional perspectives, not because we had a deep understanding of the community and its work.
I approached this year's SIGCSE trying to take stock of what has changed, however small, mostly out of a need to stay motivated. So instead of a bunch of paper summaries, this is instead going to be a chronicle of noticing signals of progress and concerning constants.
On Wednesday I helped co-organize a pre-conference workshop on accessibility. The day drew about 30 attendees overall, most of whom viewed themselves as allies, and who had a wide range of interests from K-12, higher education, workplace issues, programming languages and tools, curriculum, and professional development.
Throughout the day, there was a whole spectrum of ideas, ranging from problematic to justice-centered. Here are some of the ones I found problematic:
Blaming disabled students for "failing" to disclose their disabilities
Avoiding conflict with powerful corporations
Deficit mindsets about autism
Looking to the APA for how to frame our work
Encouraging access to broken systems instead of fixing systems
Reducing disability to complete blindness
Reducing equity to accommodation
Well-meaning but misguided saviorism
And here are some of the ideas I was more fond of:
Evolving our language past notions of "special" accommodations
Resisting ableist systems by leveraging institutional power
Expanding literacy about accessibility
Getting the word "accessibility" into learning standards and guidelines
Embracing the diversity of autistic experiences
Intersections between accessibility, culture, and language inclusion
Including chronic mental health challenges in disability
Decoupling audio and visual representations with underlying structure
Thinking critically about the power and peril of labels