IDEALS Workshop
The 2023 Grad Cohort Workshop for Inclusion, Diversity, Equity, Accessibility, and Leadership Skills (IDEALS) was held March 23 – 25 in Hawaii. 2023 marks the third year that the Computing Research Association's Widening Participation (CRA-WP) initiative has hosted IDEALS, and the third year that AccessComputing has provided Bronze sponsorship for the event. The two-day workshop convened over 100 graduate students and 30 professional mentors in computing for sessions spanning practical advice for early, middle, and later years of graduate studies, with topics ranging from "Master's vs. Ph.D." to "Navigating Microaggressions and Finding Your Voice." Organizers' commitment to disability inclusion was demonstrated by self-reported 40% disability representation among attendees and continuation of robust COVID-19 safety measures.
AccessComputing leadership, partners, student members, and alumni were present throughout the schedule. Dr. Raja Kushalnagar (co-PI) presented "Building Resiliency and Overcoming Failure," Dr. Shaun Kane (alum) presented "Summer Internships," Dr. Stacy Branham (co-PI) presented "Presentation and Other Verbal Communication Skills," and several members (including Dr. Susan Rodger) participated in the career advising and resume advising post-workshop sessions.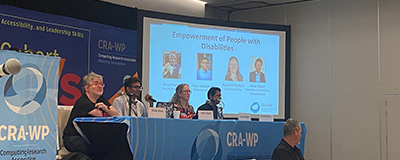 Ather Sharif, a Ph.D. candidate at the University of Washington and an AccessComputing Team Member, hosted a highly engaging plenary panel entitled "Empowerment of People with Disabilities." In framing the panel conversation, Sharif explored the meaning of "empowerment" as a quality that originates from individuals with disabilities when their social and physical environments lack barriers. Dr. Kane expressed the nuances of intersecting identities; whereas disability can be a source of oppression, being a white male can be a source of privilege. Dr. Rodger shared her experience of diagnosing her non-apparent disability later in life. Dr. Kushalnagar impressed the audience of computing students with a call to include people with disabilities by introducing the popular refrain "nothing without us."

Drs. Stacy Branham, Sheryl Burgstahler, and Raja Kushalnagar hosted the AccessComputing Community Meetup immediately after the workshop's conclusion. Two dozen attendees joined to discuss AccessComputing's mission, resources, and ways to get involved. Participants took turns asking questions about the experiences of AccessComputing members and alumni, and they requested help filling out the application to join.