AccessComputing and AccessCSForAll Represented at SIGCSE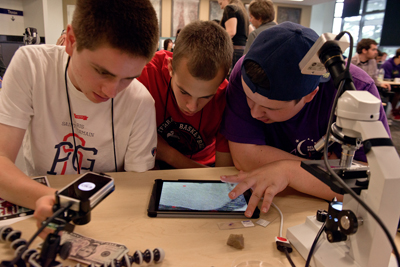 Both

AccessComputing

and

AccessCSForAll

projects are aimed at getting more students into computing education and careers.
AccessComputing and AccessCSForAll were well represented at the 2015 SIGCSE (Association for Computing Machinery Special Interest Group on Computer Science Education) Technical Symposium on March 5–7 in Kansas City, MO. Both projects disseminated information about increasing the participation of students with disabilities in computing education in the exhibit hall.
In addition, AccessCSForAll 's principle investigators, Richard Ladner and Andreas Stefik, led a special session titled "Introduction to AccessCSForAll and Accessible Tools for Teaching Programming." The session focused on K-12 education and ways to help teachers include students with disabilities in their classrooms. Attendees participated in a hands-on experience with the Quorum language, a programming language designed for youth regardless of disability. To experience Quorum for yourself, visit https://quorumlanguage.com/hourofcode/part1.html.
AccessComputing also held a Birds of a Feather discussion titled "Universal Access to Computing Education" that was attended by postsecondary faculty, students, and individuals with disabilities. Discussion focused on methods to support students with disabilities, resources to assist these efforts, and ways to partner with AccessComputing.