DO-IT Promotes #NoMouse Challenge for Global Accessibility Awareness Day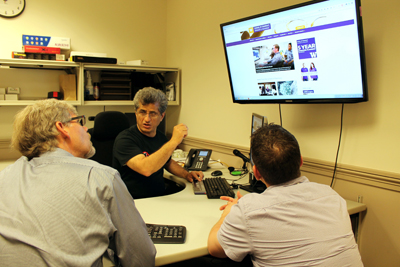 The ATC offers free website accessibility consultations and accessible technology.
Global Accessibility Awareness Day (GAAD) serves to get people talking, thinking, and learning about digital accessibility and users with different abilities. This year, DO‑IT and the Access Technology Center (ATC) are sponsoring the #NoMouse Challenge, an initiative to raise awareness about accessible web design. 
The #NoMouse Challenge was featured at the ATC open house on May 21, 2015, where people from across campus came in to learn what the ATC and other service organizations on campus offer to students, faculties, and staff with disabilities. Hadi Rangin, DO-IT's IT Accessibility Specialist, offered individualized website consultations, and ATC staff demonstrated a variety of accessible hardware and software. Samples of braille and tactile graphics were also distributed.
To take the #NoMouse Challenge, use your organization's website with a keyboard alone. Visit nomouse.org for a variety of tips and questions to ask as you navigate, or to find out more about making your website accessible. The day after GAAD, nomouse.org had been viewed 1,682 times and, according to hashtracking.com, #NoMouse was tweeted 109 times, reaching 72,000 people.