AccessComputing at CSUN 2019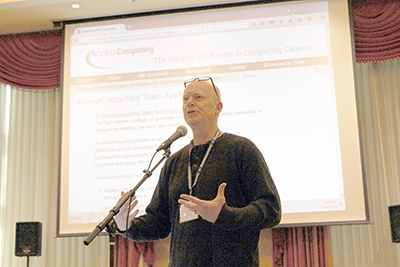 The CSUN Conference, hosted by California State University at Northridge (CSUN), is the premier international conference on technology and disability. The conference attracts thousands of researchers, practitioners, exhibitors, end users, speakers and other participants to share knowledge and promising practices related to assistive technology and technology accessibility. The 34th Annual CSUN Assistive Technology conference will take place March 11 through 15, 2019.
This year, the conference will be moving to Anaheim, California. Consistent with prior years, AccessComputing will have a presence at the conference, helping to staff the DO‑IT booth in the exhibit hall, where they will be distributing resources and be available throughout the conference to answer questions and discuss issues related to project goals.
DO-IT will be giving three presentations. Sheryl Burgstahler and Terrill Thompson will be presenting on 'Teaching Accessibility topics in computing curriculum," while colleague Hadi Rangin will be giving two presentations: "Internet2 NET+: a new vehicle to drive accessibility and universal design" and "Accessibility training for IT vendors: a new model to reach accessibility."
Additional information about the CSUN Conference is available online.