Accessing Higher Ground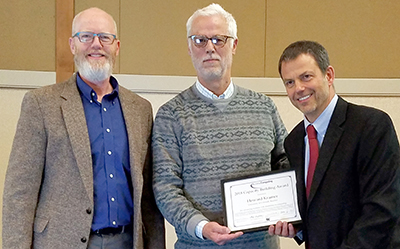 The Accessing Higher Ground (AHG) conference is designed for college and university faculty and staff to ensure that information technology procured, developed, and used at their institutions is accessible to all. At the 2018 conference, Terrill Thompson, our technology accessibility specialist, Sheryl Burgstahler, AccessComputing Co-PI, and Richard Ladner, AccessComputing PI, spoke and provided behind-the-scenes support at the conference through the following activities:
Terrill and Sheryl engaged with colleagues from other institutions in a two-day workshop about how campuses can take steps towards increased IT accessibility.
Sheryl presented on the design of campus IT accessibility services when the availability of resources is low, as well as on how a universal design framework might be embraced campus-wide.
Terrill offered a workshop on accessible video design.
Sheryl led a capacity-building institute focused on how computing faculty can incorporate accessibility content in their courses, and Terrill and Richard, who leads our AccessComputing project, presented.
Terrill taught participants how to audio describe videos.
Richard reported the results of a survey that sought to determine what percentage of computing faculty already teach about accessibility and shared options for doing so.
To see proceedings from the capacity building institute on teaching accessibility, visit the AccessComputing website.
AccessComputing also honored the AHG founder and director, Howard Kramer, with the AccessComputing Capacity Building Award for his efforts in drawing together leaders and newcomers in accessibility by hosting the international AHG conference for 21 years.