Accessible Computer Science Principles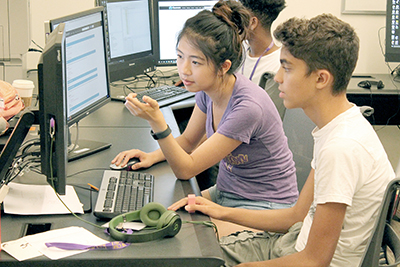 AccessCSforAll is proud to announce that we have completed an accessible version of Code.org's Computer Science Principles (CSP) curriculum that utilizes the Quorum programming language. The curriculum is accessible to all students, including those with disabilities. We've worked closely with Code.org to mirror their existing curriculum and create tools that allow students with disabilities to complete the course. We are working with the College Board to get the curriculum endorsed as an Advanced Placement (AP) CSP course.
This past summer, we held professional development for teachers of the blind and visually impaired. What we've learned from that experience led to a paper that will be presented at SIGCSE in March. In 2019, we will hold professional development for teachers from schools for the deaf and in 2020 we will hold professional development for teachers from schools that serve students with learning disabilities. Find out more about 2019 professional development on our website.
Share this information with teachers so we can get the word out. Many students with disabilities who will benefit from this curriculum are in mainstream courses. Learn more about the Quorum programming language on their website.