AccessComputing Engaged at Tapia Celebration of Diversity in Computing
Every year the Association of Computing Machinery's hosts the Tapia Celebration of Diversity in Computing (tapiaconference.cmd-it.org/). The conference brings together undergraduate and graduate students with educators and professionals in computing fields who are from diverse backgrounds. One of the conference's goals is building community among groups that are underrepresented, including individuals with disabilities.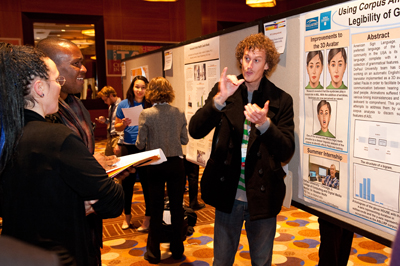 AccessComputing was well represented at this year's event, held in Seattle on February 5-8. AccessComputing was a Bronze Sponsor of the conference and many AccessComputing student team members were awarded travel scholarships to attend.
For the first time, AccessComputing held a "Birds of a Feather" session to bring together attendees with disabilities. The session was well-attended—over twenty people came, including individuals with disabilities, educators, and other advocates. The discussion focused on raising awareness of AccessComputing's resources and activities, ways of creating more community among individuals with disabilities, and establishing greater visibility of disability at future Tapia Celebrations.
The Alliance for Access to Computing Careers (AccessComputing) helps students with disabilities successfully pursue undergraduate and graduate degrees in computing fields, and works to increase the capacity of postsecondary institutions and other organizations to fully include students with disabilities in computing courses and programs. These activities are funded by NSF Grant #CNS-1042260. Find more information at www.washington.edu/accesscomputing/.