The AccessSTEM National Capacity-Building Institute
On February 25-28, DO-IT's AccessSTEM project at the UW hosted a CBI focused on sharing interventions to promote the full inclusion of people with disabilities in STEM postsecondary programs and careers. The event was held in Seattle and was attended by more than fifty participants from around the country, including individuals who currently serve in projects funded by the NSF's RDE project, past RDE project leaders, individuals with disabilities, and representatives from key professional organizations.
The CBI was collaborative. Short presentations by participants were followed by discussion groups to share expertise, practices, and funding ideas. Major topics included faculty and staff engagement in universal design; transition supports; technology access; and interventions that support STEM students with disabilities through academic coaching, mentoring, and other activities.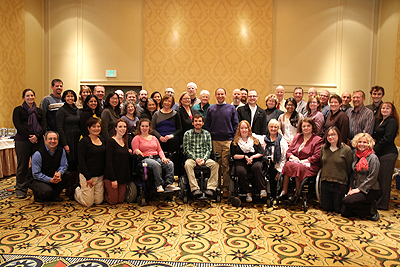 Some practices suggested for replication include the following:
In a highly-rated activity on the second day of the CBI, four STEM students with disabilities participated in a panel presentation. While discussing the impact of technology on her education, one of the panelists shared her story: "I used to have a one-on-one [personal care attendant] with me. A large part of me becoming independent was technology I was given [to] control my computer with my voice. It truly changed my life." Another panelist talked about how programs aimed at increasing diversity in STEM changed her outlook: "I never thought I would be doing research and presenting about it. Because of programs aimed at increasing diversity in the field, I was exposed to experiences I wouldn't have had otherwise."
The CBI was funded by a supplemental grant from the NSF to DO-IT's AccessSTEM project (Grant #HRD-0833504). Find more information at www.washington.edu/doit/programs/accessstem/overview. CBI event proceedings will be posted online in the coming months.