Director's Digressions
As most of our readers know, the Disabilities, Opportunities, Internetworking, and Technology (DO-IT) Center is located at the the University of Washington (UW). However, DO-IT is primarily supported with funds external to the UW.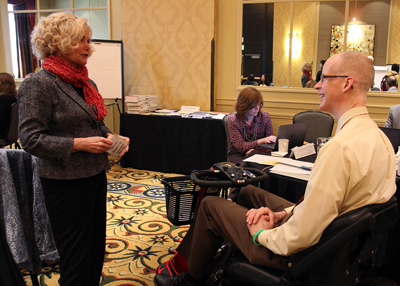 The largest contributor to DO-IT efforts is the National Science Foundation (NSF). With funding from the NSF, (Award #HRD-0227995 and #HRD-0833504), DO-IT leads AccessSTEM, a regional alliance with Seattle Public Schools, UW, Seattle Central Community College, and Bellevue College. AccessSTEM works to increase the participation and success of people with disabilities in science, technology, engineering, and math (STEM) academic programs and careers. AccessSTEM recently sponsored a capacity-building institute (CBI; see related article).
DO-IT is also part of the NSF's multi-campus Center for Neurotechnology (CNT), which is led by the UW under NSF Award #EEC-1028725. In its role, DO-IT ensures engagement of individuals with disabilities, including veterans, in project activities and the universal design of products developed through the Center. As a partner in the Promoting Equity and Engineering Relationships (PEERs) project, DO-IT is funded by NSF's Innovation through Institutional Integration (I3) program under Award #HRD-0833338. PEERS is a collaborative effort toward making the culture in the UW College of Engineering more supportive of women, minorities, students with disabilities, and other underrepresented groups.
In DO-IT's Collaborative Dissemination Project (NSF Research in Disabilities Education Award # HRD-0929006), we lead projects to broaden the participation of people with disabilities in sharing resources and interventions for the purpose of maximizing their collective impact.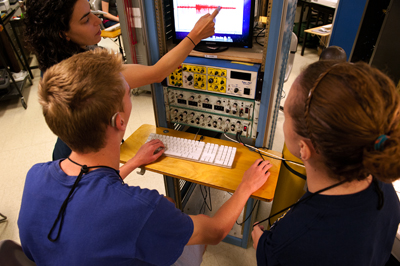 The National Oceanic and Atmospheric Administration's (NOAA) Award #NA-100AR4320148 funds a participant in the DO-IT Scholars program, which prepares young people with disabilities for college, careers, independent living, and leadership roles in society. The DO-IT Scholars program, as well as other state-wide efforts to increase the success of students with disabilities, is primarily funded by the State of Washington.
The Boeing Company supports DO-IT's collaboration with Seattle Public Schools; the Accessible Career and Technical Education program serves to make materials and curricula more accessible to students with disabilities (see related article). Mitsubishi Electric America Foundation funds the AccessSTEM CAREERS project to provide career development services to postsecondary students with disabilities in the region.
So, as you can see, DO-IT relies on the support of many funding sources for its ongoing activities. In addition to these funds, we receive contributions, big and small, of individuals who value the work that we do.