AccessComputing Funded for Three More Years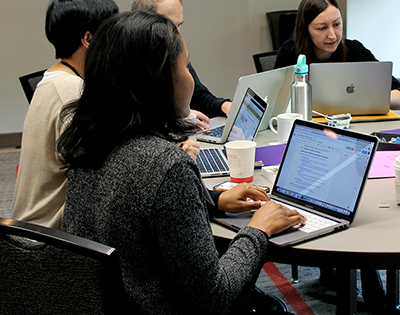 AccessComputing is one of DO-IT's longest running projects, starting in 2006. AccessComputing helps students with disabilities successfully pursue undergraduate and graduate degrees and careers in computing fields, and works to increase the capacity of postsecondary institutions and other organizations to fully include students with disabilities in computing courses and programs. AccessComputing promotes a growth in computing fields that benefits the nation by helping to improve the ability of its technology workforce to respond to national needs that depend, more and more, on computing technology. AccessComputing partners with over 75 academic institutions, computing organizations, and tech companies to achieve its common goals.
AccessComputing will be led by PI Richard Ladner; co-PIs Sheryl Burgstahler, Stacy Branham (UC Irvine), Raja Kushalnagar (Gallaudet), Elaine Short (Tufts University); senior personnel Amy Ko (UW Information School) and Associate Director Brianna Blaser. DO-IT is excited to welcome new co-PIs to the project. 
Building on previous work, the grant will include new activities such as
expanding the leadership team beyond the University of Washington to include emerging leaders from three new institutions;
expanding the academic partners to include more community and technical colleges;
expanding the AccessComputing students and the services available to them;
collaborating with other BPC (Broadening Participation in Computing) Alliances to coordinate and synergize BPC efforts related to gender, race, ethnicity, and disability;
expanding the industry partners and interactions with them;
expanding the organizational partners to include more subdisciplines in computing fields; and
developing a comprehensive and adaptable e-book for teaching accessibility and disability topics in computing courses.