New Funded Projects Serve to Increase Accessibility and Inclusion in Computing Fields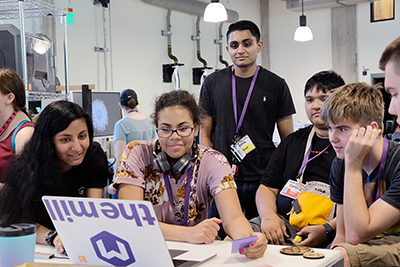 In addition to an Extension of our AccessComputing project, DO-IT is excited to announce two new computing-related grants from the National Science Foundation. These grants build upon our history of making computing fields more welcoming and accessible to people with disabilities.
AccessCSforAll is a continuing collaboration between the University of Washington and the University of Nevada Las Vegas with the goal of including more K-12 students with disabilities in computing classes. The project aims to decrease barriers such as inaccessible tools and curriculum while improving access to quality computer science education for students with disabilities. Building on our previous work with developing an accessible version of AP Computer Science Principles (CSP) and leading the professional development for teachers who specialize in students with disabilities, AccessCSforAll will develop new tools and curricula that can be adopted by a variety of development and curriculum providers. In addition, AccessCSforAll will extend its researcher practitioner partnership (RPP) to include CS curriculum providers, in-service and pre-service providers, and organizations that support K-12 CS teachers. This partnership will lead to the adoption of more accessible tools and curricula in the teaching of computer science nationally. AccessCSforAll is led by PIs Richard Ladner and Andreas Stefik and co-PI Sheryl Burgstahler.
This project includes partnerships with developers of accessible tools and curricula for K-12 students and will work as a national resource for CS teachers to help them better include students with disabilities in their classes. The primary goal of the project is to scale up past efforts to make computer science classes equitable and welcoming to all students in the United States. It will create and deploy an age-appropriate accessible blocks-based programming environment for the web called Quorum Blocks. Quorum Blocks will allow students to engage in accessible coding in blocks mode or text mode. Curriculum providers and teachers can embed it into any curriculum of their own design. This expansion will work towards reaching the approximately 16% of high school students who have a disability. AccessCSforAll represents one of the first comprehensive steps to provide that scaling up to include these students in computer science.
Our other newly funded computing-related project is brand new—Creating and Testing Data Science Learning Tools for Secondary Students with Disabilities. PIs include Andreas Stefik (University of Nevada Las Vegas), Nicholas Giudice (University of Maine), Jenna Gorlewicz (University of St Louis), and DO-IT's Brianna Blaser. The main goal of this collaborative project is to create and evaluate a universally accessible data science infrastructure for high-school-aged learners, with a focus on students with disabilities. Data science is critical in the development of industry-relevant computational thinking skills. Computing initiatives, including data science, are rapidly growing because of the compelling career pathways that data science skills provide. A careful investigation into already-at-scale data science initiatives shows that such tools and curriculum are largely not accessible to individuals with disabilities, nor do they have a strong foundation of human factors evidence supporting their designs. These issues are crucial and must be resolved for workforce equity and a diverse science, technology, engineering, and mathematics (STEM) pipeline.
This project will bring together investigators in computer science, mechanical engineering, education, social science, and cognitive neuroscience to rethink the tools that support the teaching and learning of data science at the high school level. The overarching goal will be to create and evaluate data science tools and curriculum that are not just in legal compliance for accessibility, but that carefully take into account the needs of learners, including those with disabilities. By creating, deploying, and rigorously evaluating the first data science tool and curriculum that is accessible to all, the project intends to help create equitable pathways for all students to enter the field of data science.