AccessComputing Industry CBI (AccessComputing News October 2016)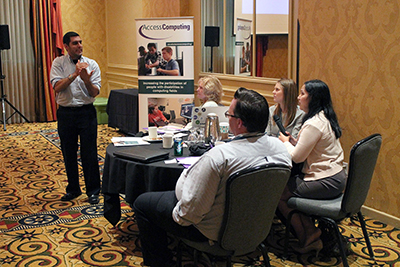 In June 2016, AccessComputing held its first CBI focused on partnering with industry to increase the participation of people with disabilities in computing careers. Companies who are interested in diversifying their workforce attended to learn strategies for recruiting, onboarding, and retaining employees with disabilities.
Presentations included an overview of people with disabilities in education and the workforce, a panel discussion of computing professionals with disabilities, disability disclosure, Microsoft's Disability Initiatives, mentoring and hiring best practices, assistive technology, and strategies for supporting software engineers in technical workplace settings. Read the proceedings online.
This CBI was part of AccessComputing's initiative to increase our partnerships with industry. Companies that are working to make the technical workplace more welcoming and accessible to computing professionals with disabilities can become AccessComputing industry partners to engage in virtual and in person events, access a resume database of computing students with disabilities, and explore opportunities to have individuals with disabilities test products for accessibility. For more information about AccessComputing Industry Partners, visit the website.
In fall 2016, AccessComputing will be releasing a resume database of students and recent graduates with disabilities. Companies who become AccessComputing Industry partners will be able to access it to recruit interns and employees with disabilities.