AccessComputing PI Richard Ladner Wins Strache Leadership Award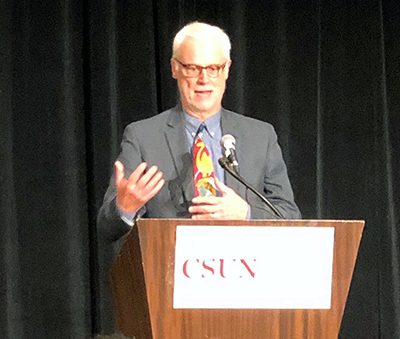 AccessComputing and AccessCSforAll PI Richard Ladner was recently honored with the Strache Leadership Award for his work in accessibility education and research. He got his award from the Center on Disabilities at California State University, Northridge (CSUN), which hosts the CSUN Assistive Technology Conference each year—the largest international conference to focus on assistive technology.
Ladner has been a leading researcher in the field of accessibility for over thirty years, and his work—both through our programs and in his teaching and research at the University of Washington—has increased access for people with disabilities to technology and computing careers. Ladner has been recognized numerous times throughout the years for all work he has done in the field of accessibility, winning the 2004 Presidential Award for Excellence in Science, Mathematics and Engineering Mentoring (PAESMEM), the 2008 Computing Research Association A. Nico Habermann Award, and the 2016 ACM SIGACCESS Award for Outstanding Contributions to Computing and Accessibility.
DO-IT Director Sheryl Burgstahler has also won the Strache Leadership Award, being recognized in 2012 for her leadership in promoting college success for students with disabilities and the universal design of instruction, technology, and services in higher education.
Learn more about his award and his background from the UW Allen School Newsletter or watch his acceptance of the award starting at 1:08 of the CSUN conference keynote. Congratulations, Richard!