How Do You Travel While Disabled?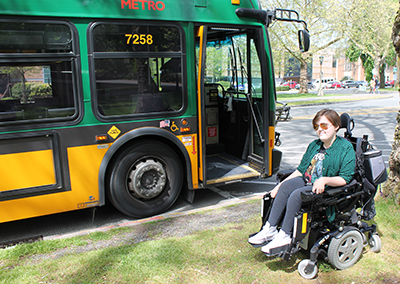 Most folks enjoy traveling and the chance to explore new places, but I felt beyond nervous and totally unprepared for a recent trip from Seattle to Boston. What exactly does traveling long-distance look like if you have a disability?
I use a power wheelchair full time and hadn't flown in eight years. My last flying experience left my chair in shambles and malfunctioning from being mishandled during loading and unloading. To prevent this in the future, I compiled a list of options to consider while traveling that I and others with disabilities can use.
My main concern is keeping my chair in one piece. An option might be to travel by land instead of flying by taking a train or making a road trip. However, each has its own issues; these options take much longer and may cost more as you will need to find accessible hotels and pay for gas. Amtrak is fairly accessible, but has limited sleeping cars and bathroom options.
In my instance, I only had a week to get to Boston. Since I had to fly, I sought out other solutions. One, albeit at a price, is to rent medical equipment in the city you plan to stay in. Boston Medical Supplies could supply hoyer lifts, manual chairs, and even things like oxygen tanks, bipaps, and other assistive mobility devices. I also found a company that rented power chairs and offered to have it waiting at the airport. Although borrowing equipment for some may be an option, these were all generic pieces of equipment; if you use specialized hand controls, seats, or seat belts, renting a chair might not be ideal.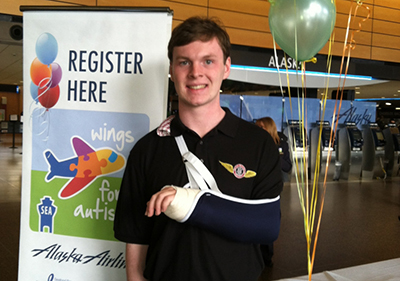 Transportation can be another issue once you arrive at your destination. Some cities have bus routes or light rail, but be sure to check where and when they run. Some cities have accessible taxi options; in Seattle, the Yellow Cab Taxi app gives the option to pick a wheelchair accessible van. However, depending on traffic, they may take a long time to arrive and tend to be expensive. You may also choose to rent your own accessible van. These are usually available in most big city in the US. These cars can be ready for you at an airport, but can be pricey—some places run close to $200 a day for an accessible vehicle.
Flying may also cause anxiety. There are programs available that help prepare participants for flight, such as the Wings for Autism program. Those who identify as autistic can sign up to practice boarding and finding a seat, all while talking to crew members about any concerns. Flying can become more familiar this way. Ambassador Ryan wrote about his experience with Wings for Autism on The Arc of King County blog. If Wings for Autism doesn't work for you, there are other programs available, such as the Fear of Flying Clinic.
Even though traveling while disabled is no small task, dedicating the time to finding the right methods and tools will help ensure a more successful trip.