AccessComputing Produces New Video on IT Accessibility (AccessComputing News - January 2013)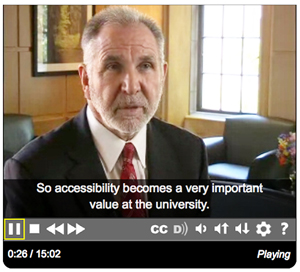 Screenshot from IT Accessibility: What Campus Leaders Have to Say.
AccessComputing's new video, titled IT Accessibility: What Campus Leaders Have to Say, features university presidents and chancellors, chief information officers, and other information technology (IT) leaders sharing their thoughts and strategies related to IT accessibility in higher education.
The video premiered at the November 2012 national conference hosted by EDUCAUSE, a nonprofit association of IT leaders and professionals committed to advancing higher education. Some of the video's participants were on hand to offer a few additional remarks and answer questions about the importance of building and buying accessible technology. The video and event were covered in The Chronicle of Higher Education and provided the stimulus for EDUCAUSE president Diana Oblinger to issue a call for senior higher education leaders to "begin a dialog on how their institutions can more effectively achieve IT Accessibility."
The video is available on YouTube as well as the DO-IT Video website at www.uw.edu/doit/video/itaccess.