AccessComputing Team Member Profile: Anh Hua
My name is Anh, and while attending the University of Washington (UW) in Seattle, I experienced a spinal cord injury, which left me with a permanent disability. While recovering, my rehabilitation counselor provided me with various career-related resources, including information about the Workforce Recruitment Program (WRP), a recruitment and referral program that connects federal and private sector employers with current and recent graduates with disabilities. Participating in WRP ended up being one of the most important programs that has helped guide my career.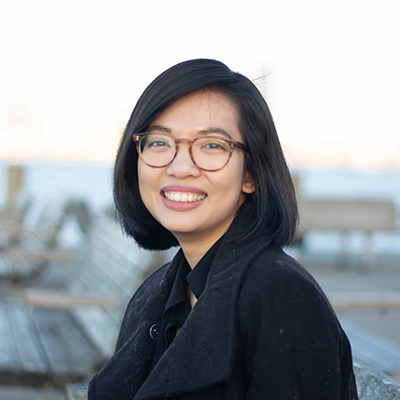 WRP helped me obtain a part-time job after graduation, and while there, I learned about Disability:IN NextGen Leaders, who are college students and recent graduates with disabilities who show talent and leadership in science, technology, engineering, and math (STEM); finance; and business fields. The NextGen Leaders collaborate with corporate partners to prepare for employment through various mentoring programs. I was connected with both the Talent Accelerator Program, an intensive career development opportunity, and the Mentorship Exchange, a six-month career mentoring opportunity for college students and recent graduates with disabilities.
The Talent Accelerator Program prepared me to talk more confidently with employers about my skillsets and abilities, as well as become more comfortable in industry settings, especially as all the employers in the program were committed to disability inclusion.
I also loved the Mentoring Exchange. My mentor not only helped by providing resume critiques and professional advice, but also found various ways to help me explore my interests. I met with my mentor every other week, and we remain in contact. One favorite thing about my mentor was that she gave me sound advice and provided a lot of helpful information about Disability:IN's Annual Conference.
At the conference, I got to talk with different companies and learn about available positions and the qualities they looked for in candidates. I learned the right questions to ask during an interview, what I should highlight on my resume, and other valuable tips. I loved interacting with the corporate partners, who offered advice about how to succeed in the workplace. I interviewed with four companies while attending the conference, and landed three follow-up interviews. As a result, I received an offer for my current position, working in user experience with The Nielsen Corporation in Chicago.
The Disability:IN's Annual Conference surpassed all of my expectations. Participating in an event specifically for individuals with disabilities, where people advocated for themselves and others, was a unique and beneficial experience. I not only learned how to talk more confidently about myself, but also about my disability. I also got to meet and network with so many diverse individuals with different disabilities and from different backgrounds. I encourage other young people with disabilities to apply to be NextGen Leaders to get the opportunity to meet other like-minded individuals and find so many different options and activities, both at the conference and beyond.
I believe the best way for employers to attract more young applicants with disabilities is to demonstrate that their company is actively working to recruit, hire, and advance employees with disabilities. This includes companies putting a disability plan in place and investing in disability inclusion. Potential employees need to be supported through the application and interviewing processes, as well as being provided accommodations once hired.