AccessCyberlearning 2.0 Capacity Building Institute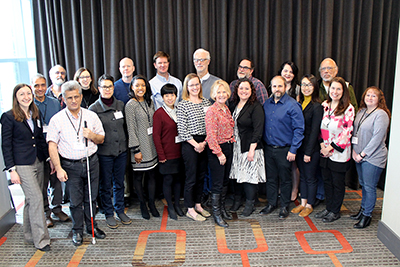 The AccessCyberlearning 2.0 capacity building institute (CBI), was funded by the National Science Foundation's (NSF) (grant #1824450), was held in Seattle January 15 – 18, 2019.
The CBI brought together researchers, graduate students, and leaders in NSF-funded cyberlearning projects to engage with each other and explore how to make digital learning research, products, activities, and resources welcoming to, accessible to, and usable by everyone, including those with disabilities.
During the workshop four research questions were explored: (1) What challenges do learners with different types of disabilities face in using current and emerging digital learning tools and engaging in online learning activities? (2) How do current digital learning research and practices contribute to the marginalization of individuals with disabilities? (3) What advances in digital learning design are required to support multi-modal learning and engagement that is fully accessible to and usable by students with disabilities? (4) What specific actions can digital learning researchers, funding agencies, educators, and other stakeholders take to systematically address issues with respect to disabilities?
Over the next few months participants will continue to collaborate on a white paper that contributes to the development of forward-looking, highly adaptable, distributed, collaborative digital environments that can personalize learning for our students, including individuals with disabilities. Potential applications cut across multiple (a) domains of knowledge, (b) learning contexts, and (c) time spans. The project will also develop guidelines for how researchers can address disability/accessibility-related issues with respect to (a) designing and testing new technologies, (b) analyzing and reporting outcomes, and (c) designing project activities and resources.
Proceedings from the workshop are being developed and will be posted, along with other related resources, on the AccessCyberlearning website.