AccessEngineering Holds Its First Capacity Building Institute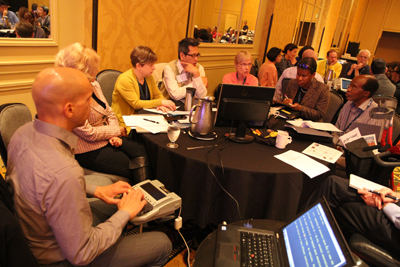 Participants at the AccessEngineering CBI discussed issues and brainstormed new ideas in small groups.
On April 7 – 10, AccessEngineering held its first capacity building institute (CBI) at the Hotel Deca near the University of Washington campus. Over forty attendees from across the country attended the CBI, including postsecondary faculty, students with disabilities, disability service providers, and professional organization representatives. Conversations throughout the event included how to increase the participation of people with disabilities in engineering fields and strategies for including information on disability, accessibility, and universal design into the engineering curriculum.
As part of their work at the meeting, attendees developed resources related to these topics. Watch for these resources to be refined and integrated into the content on the AccessEngineering website over the next few months. In this three-year project, AccessEngineering will hold two more CBIs with stakeholders from across the country in order to advance the goals of the project. To learn more about AccessEngineering and to read more about this CBI, visit www.uw.edu/doit/programs/accessengineering/overview.