Accessibility Protests at SIGCHI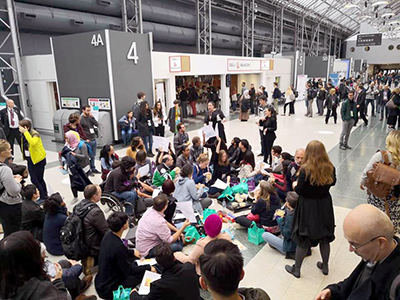 Accessibility is hard, it is also critically important. Accessibility is a core value of CHI, the flagship conference of the human-computer interaction (HCI) field. HCI is driven by understanding and supporting people, leading to technological innovation. Despite this value, SIGCHI, CHI's parent organization, struggles to make it's 24 conferences accessible.
AccessSIGCHI is a dedicated group of volunteers who are leading the charge toward more accessible computing conferences. However despite their efforts, many of these conferences are woefully inaccessible. Tensions have been rising as these volunteers are ignored and disempowered. Finally this year, the tensions broke as the CHI conference struggled to overcome the outdated, cramped, inaccessible infrastructure of the Glasgow Convention Center. Numerous attendees with disabilities were excluded from the conference because of the accessibility barriers that volunteers had been anticipating for months. Students and faculty, many with disabilities, organized a "Crip-In" where protestors sat at the entrance to the town hall meeting. Holding signs for the whole conference to see, protestors with disabilities told their SIGCHI stories.
The protest was successful, prompting SIGCHI leaders to work with these volunteers to take concrete actions towards conference accessibility. Together efforts have begun to increase representation of disabled people; provide accessibility budgets to all SIGCHI conferences; create clear, enforceable guidelines for accessibility; and increase publication accessibility. Ultimately these are only small steps towards complete accessibility, but they have the momentum necessary to create an accessible community. Through protest, SIGCHI is embracing the endeavour towards an accessible world.
For updates on SIGCHI accessibility please visit the AccessSIGCHI facebook page.