URMD Grad Cohort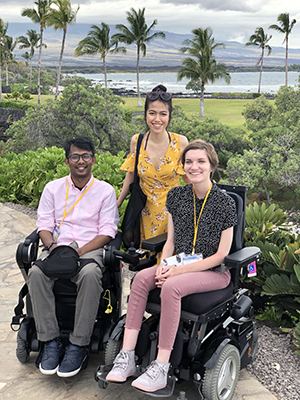 The second annual CRA Grad Cohort for Underrepresented Minorities and Persons with Disabilities (URMD) was held in Waikoloa, Village on the Island of Hawaii on March 22-23, 2019. The event, organized by the Computing Research Association (CRA), is for computing graduate students in their first three years to learn how to navigate and persist in their programs. About 150 students, including roughly 20 who reported a disability, and 25 mentors attended the workshop.
AccessComputing was a Silver Sponsor with the commitment to fund 10 students with disabilities to attend the workshop. Among the mentors were our AccessComputing partners, Raja Kushalnagar from Gallaudet University, Shiri Azenkot from Cornell Tech, Ayanna Howard from Georgia Tech, Dilma Da Silva from Texas A&M, and Shaun Kane from the University of Colorado. Many topics of interest to first to third year graduate students were included in presentations, active breakouts, and panels. Among them were networking, publishing, life balance, industry vs. academia, job search, communication skills, cultural barriers, finding an advisor, and building a professional persona. One particular breakout, titled "Empowerment of People with Disabilities" and lead by Shaun Kane and Richard Ladner, was about strategies to help students with disabilities successfully advocate for themselves and maximize their abilities. There were many opportunities for one-on-one mentoring during breaks and at scheduled mentoring sessions.
Learn more about URMD and access resources here!