Creating a Successful Healthcare Transition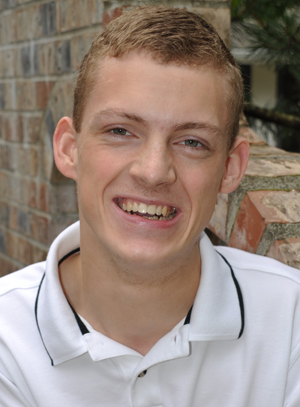 DO-IT Scholar Daman
Hi, my name is Daman Wandke, and I am a junior at Western Washington University (WWU). I have cerebral palsy. Thanks to my parents' hard work and dedication, they made sure that I got the right physical and speech therapy. My parents also taught me how to be an advocate at a young age. In my transition to college, I learned about managing my own healthcare.
In high school, I became increasingly involved in my medical appointments. My parents still went to all of my doctor appointments, but I began to be the one to ask the questions. This helped me understand decisions that were made to aid my care and prepare for my freshman year of college.
In freshman year, my back started to hurt more than normal, and I knew something was wrong. I was in so much pain that it was hard to get out of bed. After several failed attempts to get an x-ray of my back at the school clinic, I decided to go to the emergency room and they agreed to take the x-rays. After looking at the results the doctor said, "Congratulations, you successfully broke your back." I asked if he was joking and he said, "No." My next step was to figure out a plan.
After visiting my orthopedic surgeon, I learned that I didn't need surgery and would just need to take pain medication until my back healed on its own. A few months after I broke my back, I decided it was time to go back to physical therapy to keep my body healthy. I have been going to physical therapy for two years since I hurt my back and have been managing the pain without much help from others.
Through this experience, I learned to be proactive and in charge of my own care. I also learned how to manage a schedule for both my medication and personal care assistants.
We all have abilities and disabilities (or strengths and weaknesses). Try to find ways to accommodate your disabilities with your abilities.
Tips for Teens: Managing Your Healthcare

Write down your questions before you go to your appointment.
Ask for clarification if you don't understand what your doctor is saying.
Know what your medications are, what doses you take, and on what schedule.
Remember to take your medications.
Track your symptoms—when you are in pain and where—so that you can share this information with your doctor.

Tips for Parents: Youth Healthcare Transition

Encourage medical providers to ask your teen questions before asking you. This will help your teen get used to answering questions. Even if they are unable to answer, it will engage your teen in the discussion.
Ask your teen questions about his or her medical appointments to stay involved.
Encourage your teen to ask you for help or advice when they need it.
Enable your teen to take responsibility for his or her health.