Designing an Accessible Online Learning Course (AccessComputing News January 2017)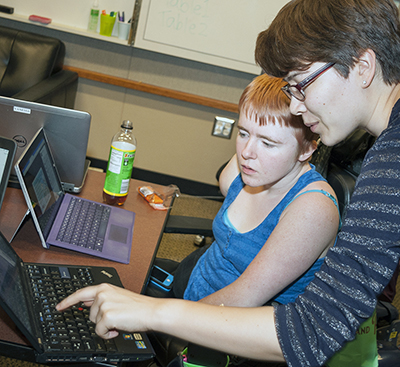 Online courses offer learning opportunities for everyone. Well, maybe not everyone.
Some classes inadvertently preclude the participation of students with disabilities. For example, if course videos are not captioned, students who are deaf cannot access the content presented in them. English language learners also benefit from captions on videos. Students who are blind use screen reader technology to read text presented on the screen. However, if a PDF is simply a scanned image, the screen reader cannot read aloud the text be causes it is embedded in the image. Similarly, students who have dyslexia or other disabilities that impact their ability to read the printed word, use screen reader technology so that they can view the printed word and hear it spoken at the same time; they too are blocked from using content in inaccessible PDFs. There are many assistive technologies that make it possible for students who cannot operate the keyboard because of a physical disability; these technologies do not always fully emulate the mouse. In these cases, users of these assistive technologies cannot access content unless it can be reached using the keyboard alone. These are only a few examples of access challenges faced by potential students, including students with disabilities.
The typical approach to making a course accessible to a specific student with a disability is to offer accommodations. Common accommodations made in online learning courses include captioning videos and accessible PDFs. However, universal design (UD), defined as the "the design of products and environments to be usable by all people, to the greatest extent possible, without the need for adaptation or specialized design" (Ron Mace, Center for Universal Design), can create more accessible learning environments. UD advocates multiple ways for students to interact, as well as to gain and demonstrate knowledge and skills. Universal designs are welcoming, accessible, and usable.
There are multiple sources of information about accessible design for online learning—many are presented on the AccessDL website sponsored by the DO-IT (Disabilities, Opportunities, Internetworking and Technology) Center at the University of Washington. Included is a document, 20 Tips For Teaching an Accessible Online Course, which helps online instructors get started in making courses inclusive of all students. This brochure covers accessibility related to IT, course content, and instructional methods. Some suggestions are easy to implement, like offering a clear syllabus with all class expectations, while others may require additional support, such as captioning videos.
Instructors do not need to implement all UD features at once; they can gradually improve their course design as they learn more about how a course can be made inclusive. The pay-off is that more students will feel welcome in their course and instructional strategies and IT used in the course will be more usable to a broader audience.