Director's Digressions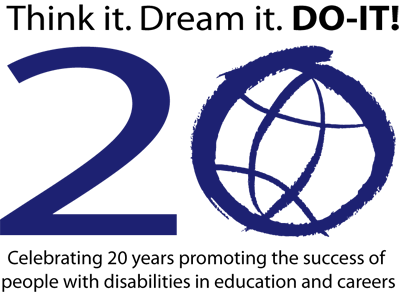 20 years of DO-IT
Sixty DO-IT Scholars and Ambassadors recently participated in activities of the annual DO-IT Scholars Summer Study program in July. Throughout Summer Study this year, these participants, who are high school and college students with disabilities across Washington State, their advocates, and DO-IT staff celebrated DO-IT's 20th anniversary. This program has helped launch the careers of hundreds of students with a wide range of disabilities.
In addition to running the summer program, the DO-IT Center offers other activities for high school and college students with disabilities; gives presentations for faculty to learn how to teach students who have disabilities; helps webmasters and technology companies make their products more accessible to individuals with disabilities; and otherwise promotes the full inclusion of individuals with disabilities in education, employment, and community involvement. "I think we're making a dent in making the world a little more accessible," said DO-IT Director and Founder Sheryl Burgstahler, an affiliate professor in the UW's College of Education.
Check out the latest version of DO-IT Snapshots to read the bios of DO-IT Scholars (participants who are still in high school) and DO-IT Ambassadors (participants in college and careers) at DO-IT Snapshots. And, consider celebrating DO-IT's 20th anniversary by contributing to the program.