Director's Digressions: DO-IT Goes Down Under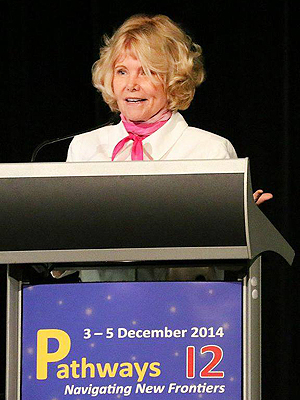 Sheryl Burgstahler gave the keynote address, "Universal Design: How do students with learning disabilities benefit?" at the Pathways 12 Conference in December 2014.
More than 20 hours in the air took me to what author Bill Bryson calls the most remote city on earth—Perth, Australia. He justifies this distinction by noting that the population of metropolitan Perth is greater than the combined populations of the rest of Western Australia, the Northern Territory, and South Australia west of Adelaide.
My destination was the historical Esplanade Hotel in Fremantle, a small port located on the Swan River on the outskirts of Perth. What a beautiful place—and, in December 2014, it was summer there.
The purpose of my trip was to deliver the keynote address at the Pathways 12 Conference, which each year brings together professional and academic staff to identify and remove barriers for people with disabilities participating in higher education. "Navigating New Frontiers" was the theme for the 2014 conference. Organizers selected this focus because, in this field of practice in Australia and around the world, we are constantly exploring new frontiers in providing access to people with disabilities. This includes adopting more innovative and universal practice models, maximizing access to emerging technologies, and adapting to changes in legislation and policy.
In my keynote address, "Universal Design: How do students with learning disabilities benefit?" I talked about universal design of instruction, a teaching approach that makes learning activities more welcoming and accessible to all students, including those with various types of disabilities, as well as gender, culture, race, ethnicity, age, and other characteristics. I shared how universal design practices can benefit students with specific learning disabilities in particular. The keynote was followed up with a concurrent session where interested attendees could continue the conversation on universal design.
I also delivered a half-day preconference workshop, "Putting Universal Design Into Practice," at nearby Curtin University, which boasts a student body of 75,000 students. Participants learned about access challenges students with disabilities face, approaches for making educational products welcoming and accessible to everyone, and basic principles of universal design. Together, we explored how specific universal design strategies can be applied to technology, physical spaces, instruction, and student services.
As with all of my travels, I enjoyed engaging with people with a similar goal to increase the success of students with disabilities. I shared ideas and brought home ideas that will inform DO-IT activities as well. I even managed to take some extra time to explore the warm beaches, waterfront, and city of Perth.
If you would like to learn more about how universal design can be applied in educational settings, check out DO-IT's Center on Universal Design in Education (www.uw.edu/doit/programs/center-universal-design-education/overview), which was originally funded by the U.S. Department of Education.