Ambassador Profile: Conrad Reynoldson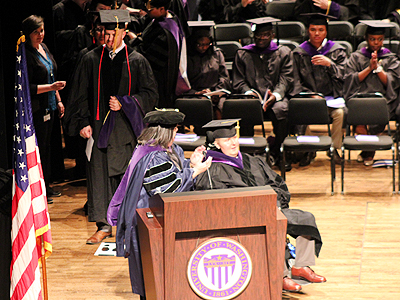 Conrad Reynoldson, 2003 Scholar, graduated from the University of Washington School of Law in June 2014.
Helen Keller once said, "Alone we can do so little; together we can do so much." This truth has certainly been apparent throughout my life, educational experience, and beyond.
My name is Conrad Reynoldson. I am a recent graduate of the University of Washington School of Law, a licensed attorney, and a DO-IT Scholar (2003-2005). I consider myself blessed to have been born during the Information Age, have access to technology, and be a part of the DO-IT program. I am excited about the doors that DO-IT participation and technology will open for many of those reading this story.
I joined the DO-IT program feeling uncertain about how I would transition from high school to college but excited that the program would introduce me to new technology that would help make that transition easier. What I didn't expect from the program was the community of people filled with hopes and dreams, sharing the tools and knowledge needed to overcome our individual barriers.
DO-IT provided me with a laptop and printer, gave me my first on-campus living experience, and connected me with my first internship at the Federal Aviation Administration (FAA). For these reasons and more, DO-IT played a pivotal role in making a full college experience, as well as a career in law, a realistic option for me. Being part of a community of determined and successful individuals, who also happened to have a disability, gave me confidence that I could live an even bigger life than I had imagined. I can still remember coming home after my first DO-IT summer and announcing to my parents that I no longer wanted to be a "commuter" when I went to college. I wanted to live on campus.
In addition to the educational experiences, I have had numerous career opportunities that would have never happened without DO-IT originally opening the door. I have had various internship experiences: with a Senator in Washington, D.C., a Congressman in Washington state, prominent think tanks in Seattle and Washington D.C, and with Disability Rights Washington in Seattle.
When I reflect on my undergraduate and law school experience, sitting for the Bar exam, and how I am now practicing law, I realize how fortunate I am to have been born in the era of technology. My physical limitations are not limitations for my chosen career path. All of my textbooks were available in electronic form, every piece of legal research material I need is accessible with a few key strokes, my legal filings can be written using speech-to-text technology very efficiently, and I can communicate with my co-counsel and client anytime, anywhere via cell phone, Skype, and email.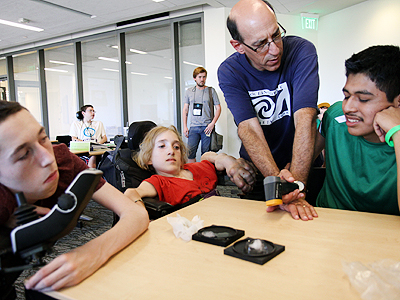 DO-IT provides many participants with the experiences, resources, and confidence necessary to attend college.
For as long as I can remember, I have had an interest in public policy and serving the needs of the underrepresented. While the Americans with Disabilities Act is a very positive first step toward removing physical barriers for people with disabilities, we have not seen substantial improvement in employment statistics since. I believe that public policy has not kept pace with changes in society and technology and that, in many cases, well intended programs are creating unnecessary barriers for people with disabilities to access employment. This reality is the primary reason why I decided to be a member of the Governor's Committee on Disability Issues and Employment (GCDE) as well as a chair of their Employer Awards subcommittee. Scott Bellman, a long serving member of DO-IT staff, has been involved with GCDE for many years and was the one who connected me with this opportunity.
Many of the DO-IT Scholars I've met over the past decade have grown up to become successful professionals in countless fields. DO-IT has been an important step in providing the tools, confidence, and community support we needed to live up to our full potential.
As of now I am working as a licensed attorney and have a world of career possibilities in front of me. I have my experience with DO-IT in part to thank for helping turn my aspirations into a reality. DO-IT shaped my dream of pursuing a college education and career from a broad aspiration to a challenging but concrete and possible goal.