Mentor Day Activity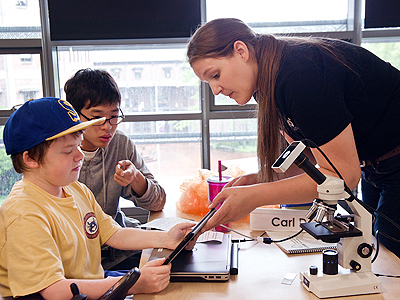 Mentoring opportunities allow students to explore their career and educational choices.
A group of Cleveland High School seniors participated in Mentoring Day at Seattle Children's Hospital on December 14, 2014. The students interacted with personnel and learned about educational requirements, personality traits, and skill sets recommended for jobs within healthcare.
Staff working in maintenance/horticulture, emergency, dietary/nutrition, labs, nursing, reception, and security shared their stories, including how they came to work at Seattle Children's. The students repeatedly heard that the staff knew their first responsibility was to the patients and their families. As the day progressed, students could decide if this environment was a good fit for them.
"This trip was particularly important for them to get an idea of what the healthcare field offers and if they are truly cut out for the work it demands," their teacher stated. "I really can't say enough positive things about the impact the trip had on my students! One student in particular was very confused before the trip and going back and forth between which healthcare certificate or degree she wanted to pursue. When I spoke with her this morning she told me that she wants to pursue a lab technician certificate/degree and we are going to explore community college options in January together. A huge thank you is in order for the trip to Seattle Children's Hospital!"