Director's Digressions: DO-IT Receives Economic Opportunity Award!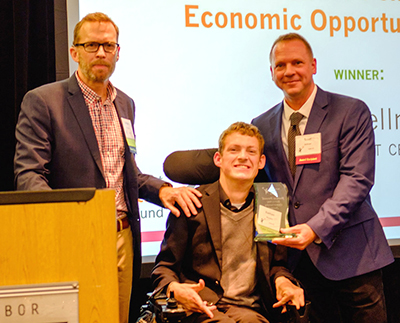 On November 2, The University of Washington's Disabilities, Opportunities, Internetworking, and Technology (DO-IT) Center received the "Frances Pennell Economic Opportunity Award" from the Northwest Access Fund. Several awards were given at the Access Fund's annual ceremony and community dinner, which took place at the Bell Harbor Conference Center in Seattle.
The economic opportunity award, named in honor of the NW Access Fund's founding executive director, recognizes an individual, organization, or business that provides people with disabilities opportunities, programs, or resources for economic advancement.
Award winners are selected based on five categories: dedication, impact, barrier confrontation, originality, and inclusion. DO-IT was recognized for more than 25 years of work to help empower individuals with disabilities to be successful in college and careers, thereby helping to ensure their meaningful participation and full access to the U.S. economy. DO-IT's electronic mentoring programs, educational support, and focus on access to empowering technology were highlighted during the award ceremony.
Scott Bellman, program manager of DO-IT, accepted the award and thanked me for my leadership over the last 25 years. Bellman shared, "People with disabilities have the skills and the talent to participate in the economy, but they need equal access. They need empowering technology, and they need to not be discriminated against for simply being human. After all, having a disability is a normal part of the human experience."
Bellman, along with DO-IT program coordinator Tamitha Tidwell, highlighted one of DO-IT's premiere programs, DO-IT Scholars, a comprehensive program for helping teenagers in Washington prepare for and succeed in college, graduate studies, and careers, using technology as an empowering tool.
The DO-IT Center also strives to promote the application of universal design to physical spaces, information technology, instruction, and services; freely distribute online content, publications, and videos for use in presentations, exhibits, and the classroom; and provide resources for students with disabilities, K-12 educators, postsecondary faculty and administrators, librarians, employers, parents, and mentors.