Director's Digressions: Highlights of Our Annual Report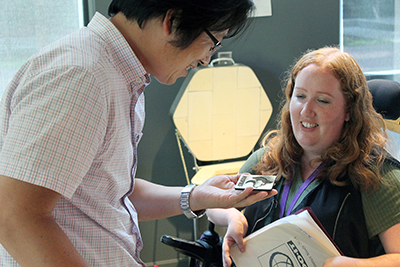 In an effort to reflect on all the great things we have accomplished, our annual report showcases both of the centers that I direct—the Access Technology Center, which supports the development and procurement of accessible IT at the University of Washington (UW), and the DO-IT Center, which supports the success of students with disabilities nationwide.
For DO-IT, the 2018 report highlights included supporting more than 60 students in locating and securing internships and growing our community to more than 1000 participants with disabilities. Our online mentoring community continues to engage hundreds of people with disabilities in locating resources and supporting each other as peers, near peers, and mentors. We also obtained seven new grants. With this funding we will be able to offer several nationwide capacity building institutes and facilitate online communities of practice to help other projects make their activities and resources accessible to participants with disabilities, help National Science Foundation proposal writers help broaden the participation of people with disabilities in their projects, outreach to students with disabilities who are Native Americans, and hold a workshop for women with disabilities interested in pursuing computer science.
In addition to our US efforts, we engaged with the DO-IT Center in Japan and are currently working with a visiting scholar to develop a DO-IT Center in South Korea.
You can read the annual report online.
We love to hear about participant progress in education and careers. Please continue to keep us updated, as well as to inform us of opportunities that we can engage in or promote to our students. If you would like to fund our programs, visit the UW donation page or email doit@uw.edu.