DO-IT 2-4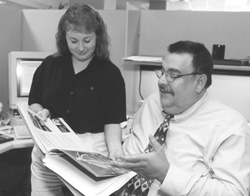 Lyla and Steve in a heated discussion at the DO-IT office.
The DO-IT 2-4 project is recruiting students with disabilities in two-year colleges and mentors to join a dynamic electronic discussion list. The purpose of the DO-IT 2-4 group is for students attending two-year colleges to communicate with each other and with mentors. Mentors, who have already made this transition, share their experiences and advice, and offer strategies for a successful and rewarding transition. Some mentors are enrolled in a four-year school, having successfully transitioned from a two-year college; others have since graduated and are now working.
To join the discussion list, send email to listproc@u.washington.edu with "subscribe doit2-4 Firstname Lastname" in the body of the message. Substitute your name for Firstname Lastname, without including quotation marks.