DO-IT Ambassador Profile: Using Assistive Technology to Increase Independence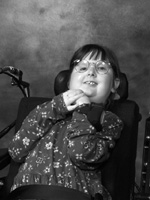 DO-IT Ambassador, Sarah
Hi. I'm Sarah and this is the story of how I gained assistive technology and self-advocacy skills that assisted me in going to college.
I have a genetic disability called fibrodysplasia ossificans progressiva (FOP). This is a progressive disease that turns my muscle into bone, so as I get older I lose mobility. Although FOP has restricted my mobility, I have a number of hobbies and interests: crafts, reading, watching TV/movies, shopping, playing on the computer, singing, and furthering my education. I enjoy being creative and make a number of crafts, including pencil holders, which I sell. I love to go with my friends to the mall and love singing in a choir, which I have done for many years. Singing is a good way for me to exercise, especially my diaphragm, since my lung capacity is restricted due to FOP.
Computers have always been a great way for me to explore things, and playing on the computer is one of my favorite hobbies, as well as a big part of my college educational experience. I use a regular computer with some adapted input devices. I use wooden dowels to type, a mini trackball mouse, a mini keyboard, and, when I need it, I use word prediction software. I enjoy being on the computer, particularly playing on the Internet. I think this is because I am so independent on the computer. Once I am set up with my keyboard, sticks, and mouse, and the computer is on, I am independent and can go nearly anywhere in the world I choose.
I joined DO-IT in my sophomore year of high school and went to my first Summer Study that same summer. DO-IT provided me with a computer and new assistive technology to use it. I participated in my second DO-IT Summer Study the next summer as a Phase II Scholar, and the following year, before I started college, came back as a Summer Study Intern. DO-IT taught me a lot: how to ask Disabled Student Services for accommodations, how to meet with professors to work out accommodations, how job interviews work, and how to write a resume, to name a few. I learned more personal things, too, like how to ask for help when I need it, even if it means asking a stranger. On top of all that, I got some great experience working with and managing my personal care attendants, which was really important once college started.
Currently, I am in my second year of college. The summer before I started school, my family and I, using many of the things I learned through my Summer Study experiences, worked with various agencies and my college to figure out how attendant care would work while I was at school. The self-advocacy skills I had learned really came in handy in this process. The university made accommodations to a dorm room so I could live on campus and had everything ready by the start of my freshman year. We worked out a plan that allowed me to have someone with me all the time, either an attendant or a parent. My dorm room was remodeled with accommodations that included a padded toilet seat and a roll-in shower. My automatic door has a push-button inside, and is card-activated outside; inside, the push button is at just the right height for me to bump with my wheelchair and open the door. I love living on campus; it allows me to have a social life outside of class.
Being in college has been a great experience for me so far, and the assistive technology I use has really made doing my schoolwork and being independent a million times easier for me. I am studying Spanish with plans to have a career as a Spanish interpreter in a hospital. I even take classes over the summer, like anatomy and physiology, which keeps me very busy. I also have plans to take a course on translating and interpreting that is offered at the local community college. Thanks to my own determination and hard work; great support from family, friends, and DO-IT; and assistive technology that allows me to be independent, my future looks bright!