DO-IT Staff Profile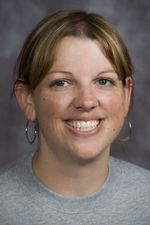 DO-IT Staff member, Val
Hi, I'm Val Sundby. I have worked for DO-IT in many different capacities since 2000 and am currently a program counselor/coordinator. I graduated from the University of Washington with a Bachelor of Science degree in cell and molecular biology in 2002 and am now pursuing a graduate degree in educational policy and leadership.
Because of my background in science, much of my time at DO-IT is focused on helping science teachers make science classes and labs more accessible to students with disabilities. I also work with students who are interested in pursuing education and careers in science, develop regional and national partnerships with other organizations interested in science accessibility, and coordinate aspects of DO-IT Summer Study.
Outside of work, I enjoy horseback riding, traveling, spending time with friends and family, and anything outdoors!