DO-IT Ambassador Wins 2007 WAPED Outstanding Student Award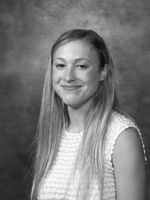 1998 DO-IT Scholar, and now a DO-IT Ambassador, Jessie Shulman
Jessie Shulman, '98 Scholar (pictured), is this year's recipient of the 2007 WAPED Outstanding Student Award. This award recognizes a student with a disability currently enrolled in a postsecondary institution in Washington State for making a significant contribution to his/her institution, community, or the state of Washington. Recipients are evaluated on their academic/vocational achievements, extracurricular involvement, community service, and demonstrated self-advocacy.
We met Jessie in 1998 when she entered the DO-IT Scholars program as a high school sophomore. Initially a quiet and reserved student with a learning disability, Jessie grew over the next several years to become an advocate, activist, mentor, and stellar student at the University of Washington.
Jessie is completing her Bachelor of Science in informatics with minors in dance and mathematics. She currently maintains a 3.85 GPA. She has made the UW quarterly Dean's List for the last six consecutive quarters. Jessie has recently been hired to work in a technology solutions unit in the banking industry.
Prior to entering the UW Jessie was selected to participate in the 2000 Governor's Youth Leadership Forum for students with disabilities in Olympia, Washington. Once she started her studies at the UW, Jessie began participating in enriching academic activities outside of the classroom. In 2002, she was a conference delegate at the Institute for Women in Technology's Virtual Development Center Conference in Palo Alto, California. Here, she presented material from her team independent study in the UW electrical engineering department's Genomation Lab. She and her team also presented at the University of Washington Undergraduate Research Symposium that same year. Involvement in these high-tech opportunities also led to involvement in Women in Science and Engineering (WiSE), a mentoring and academic interest group designed to increase recruitment and retention of women of diverse backgrounds in science and engineering. This year, Jessie received the Boeing Informatics Diversity Scholarship from the Information school at the UW was elected the Director of Operations for the Informatics Undergraduate Association.
Aside from her academic learning, Jessie also ensured that she participated in campus disability-related activities. In 2003, she was one of the founding members of Disability Advocacy Student Alliance (DASA), a grassroots student group facilitated for and by students. The goal of DASA is to address the needs and concerns of the disability community and its allies on the University of Washington campus. Jessie has served as the DASA president and remains actively involved with the group.
Last year, Jessie was a member of the UW Training Collective. This is a group of faculty and students who gather to discuss and review training philosophies, goals, and audiences; pilot and evaluate training options, and propose an effective permanent diversity training program for students, faculty, and staff.
Never a quiet moment in her busy life, Jessie has also taken advantage of every summer by participating in challenging internships to expanding her learning. Her first internship experience was with the Human Interface Technology Lab (HITL) at the UW from 2001-2002. Here, she worked with world-renowned virtual reality researcher, Hunter Hoffman.
In 2003, Jessie was selected for a Microsoft/American Association Of People with Disabilities (AAPD) Federal IT internship program in Washington DC working with the Department of Education Assistive Technology Center. Jessie returned to Washington D.C. the following summer to work as an intern with the World Bank Group, International Bank of Reconstructive Development Information Solutions Group.
In 2005, Jessie worked in the Lab Animal Resources and Pathology department at Amgen in Seattle, providing clerical support and assistance in developing the department's web portals. Last summer, she was an Information Management Intern at Onvia in Seattle, working as a member of the product and services team in the development and launch of a new product.
Even with a full plate, Jessie continues to be involved with DO-IT, where she provides her insights on disability issues through our electronic discussion lists and on-site programs. She continues to mentor adolescents with disabilities. Jessie's accomplishments in her education and her personal life are phenomenal. Congratulations Jessie!