UW Hosts Faculty Institute on Creating an Inclusive Classroom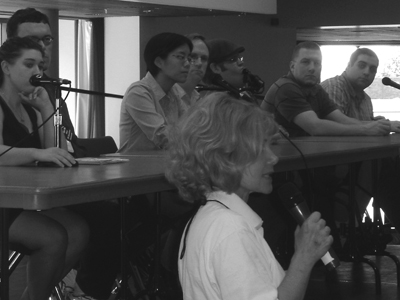 DO-IT director Sheryl Burgstahler welcomes panelists.
On April 5, twenty-four University of Washington faculty gathered to participate in the Faculty Institute on Creating an Inclusive Classroom. The half-day seminar featured content on universal design of instruction. Ana Marie Cauce, executive vice provost, opened the session by reminding faculty of the UW's commitment to inclusion of diversity in the classroom.
Then Dyane Haynes, director of Disability Resources for Students, described the UW accommodation process and explained how universal design can make courses welcoming and accessible to all students.
Up next on the agenda was DO-IT director Sheryl Burgstahler who helped faculty understand how they can apply universal design to their instruction.
After showing a DO-IT video on universal design, I spoke about how an individual faculty member's work towards universal design fits into the big picture of systemic change on campus.
The morning wrapped up with a group action planning and a brainstorming session. Faculty described the session as "valuable" and they appreciated the resources that DO-IT provides. Current plans involve offering additional institutes to faculty at the UW Seattle, Tacoma, and Bothell campuses.