DO-IT Director Wins the Diversity in Technology Leadership Award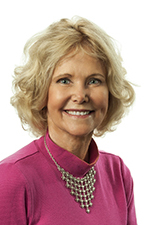 Each year, the National Alliance for Partnerships in Equity (NAPE) and the NAPE Education Foundation honor individuals in education and work who embody a commitment to equity, inclusion, and diversity.
This year, DO-IT Director Sheryl Burgstahler won the Diversity in Technology Leadership Award. This award recognizes a role model to the national community of excellence in science, technology, engineering, and mathematics (STEM). Sheryl was chosen for her embodiment of the following values:
Promotes diversity, equity, and inclusion in her organization
Collaborates, mentors, and advocates to inspire and develop future leaders from underrepresented groups
Is innovative, creative, and agile in moving her community forward to promote diversity, equity, and inclusion in technology and STEM
Uses research- and evidence-based mechanisms to advance diversity, equity, and inclusion
Demonstrates measurable outcomes showing increased participation of underrepresented groups in technology and/or STEM
The awardees were honored on April 29, 2021 at the end of NAPE's annual summit. As she accepted the award, Sheryl made the following statement: "I would like to thank NAPE for recognizing the accomplishments of my Accessible Technology Services unit at the University of Washington along with our partners and collaborators. Projects led by our DO-IT Center and the IT Accessibility Team have increased the successful participation of people with disabilities in college and careers, using technology as an empowering tool. The speed at which thousands of on-site courses and services at our postsecondary institutions were moved to online formats in response to the pandemic was impressive, but it also shined a light on the many shortcomings with respect to accessibility. Much work remains to be done in making these offerings fully accessible to and inclusive of people with disabilities. We will continue to collaborate with like-minded individuals and organizations to work toward leveling the playing field in academic opportunities and careers for people with disabilities. Through this award NAPE highlights the importance of considering people with disabilities in all diversity, equity, and inclusion initiatives."
Learn more about the award at NAPE's website.