Standardized Testing Accomodations
As part of my journey towards law school and a legal career in the Disability Rights or other civil rights field, I took the Law School Admission Test (LSAT) back in mid-February with a 50%-extended-time accommodation in a relatively-quiet room at a hotel near my house. That said, getting my testing accommodations, particularly the extended-time, was a process that took months. For anyone who is about to take a standardized test after high school, here are some takeaways from my experience with taking the LSAT with that accommodation, from the perspective of someone who just took one.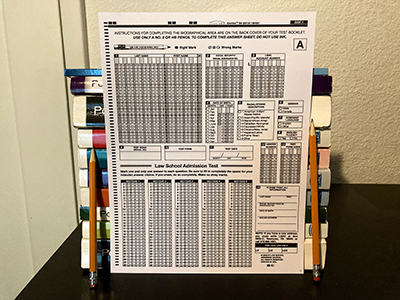 Preparing your testing accommodations before signing up for the test allows for the smoothest testing process.
First, do NOT register for any test until you are certain that you have the sufficient documentation for requesting testing accommodations in place. I made this mistake when I originally registered, in September 2019, for the January 2020 LSAT. I didn't know how long the process would take, so I waited until December to obtain and submit the necessary documentation, thinking it would be a quick process. I didn't have the documentation when I registered, and thought I could find a way to obtain and submit the documentation before the deadline to submit them in early December, thinking it would be a quick process. Not only did I not have the sufficient documentation at that time, I also had to be diagnosed for my disability again, and the earliest opportunity to be diagnosed again wasn't until after the deadline to submit my request for accommodations. I ended up canceling my registration for the January 2020 LSAT, which cost me $150 in the long-run.
Ultimately, I was re-diagnosed for my disability in early January 2020, and about a week after my appointment, I had received the sufficient accommodations documentation required for the LSAT from my psychologist. I ended up signing up for the February 2021 LSAT in late November, with about two weeks before the hard deadline to submit my accommodations, and submitted my accommodations documentation a day later. It took a couple of weeks for my testing accommodations to be approved.
If, like me, you need to be diagnosed for your disability again, do that as soon as possible. It is better to have the documentation earlier rather than later.
Additionally, conduct all possible research on the process of submitting your request for accommodations. I started by looking at the applicable links on the LSAT website, beginning with a general homepage on accommodations, and then browsing through the left-hand menu for any other links of interest, especially "documentation requirements." I highly suggest exploring the applicable "testing accommodations" section(s) of the official website of the test you're about to take, especially for pages that discuss general information, including documentation and other requirements, as well as the proper procedure for submitting your request for testing accommodations, and any and all hard deadlines and other important dates regarding your request. Finally, if there's a phone number or email dedicated for testing accommodations, don't be afraid to use those, especially if you have any further questions or inquiries.