DO-IT Wins Award in the NSF STEM for All Video Showcase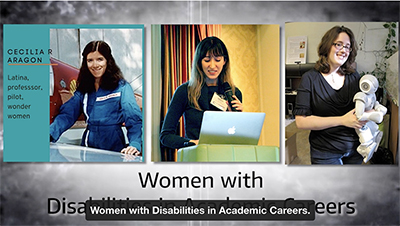 Still with captions from the Women with Disabilities in STEM Academic Careers video.
Each year, TERC (originally Technical Education Research Centers) hosts an event called the National Science Foundation (NSF) STEM for All Video Showcase, sharing three-minute videos from federally funded projects that seek to improve science, technology, engineering, and math (STEM) education. During the week-long event, a wide variety of stakeholders (educators, policy makers, industry representatives, and the general public) are encouraged to participate and share in meaningful discussion. According to the STEM for All website, "All participants will be able to view the video presentations, post to the facilitated discussions related to each video, and vote for the videos that are most effective in conveying the creative work being done." Showcase videos and discussions are archived for future access after the event. Videos submitted in 2021 by DO-IT Center and its collaborators include these videos:
The DO-IT video Women with Disabilities in STEM Academic Careers, led by Brianna Blaser and leaders of the DO-IT AccessADVANCE project, won a prestigious STEM for All Showcase Presenter's Choice Award! The award is bestowed upon a video for quality of content and its ability to engage the audience in lively discussion. Recipients are selected by the STEM for All community of presenters and co-presenters, representing a group of leading researchers in the field of STEM education. Congratulations to Brianna and the AccessADVANCE team.